Santa Barbara Airport passenger numbers expected to soar again after record-breaking 2019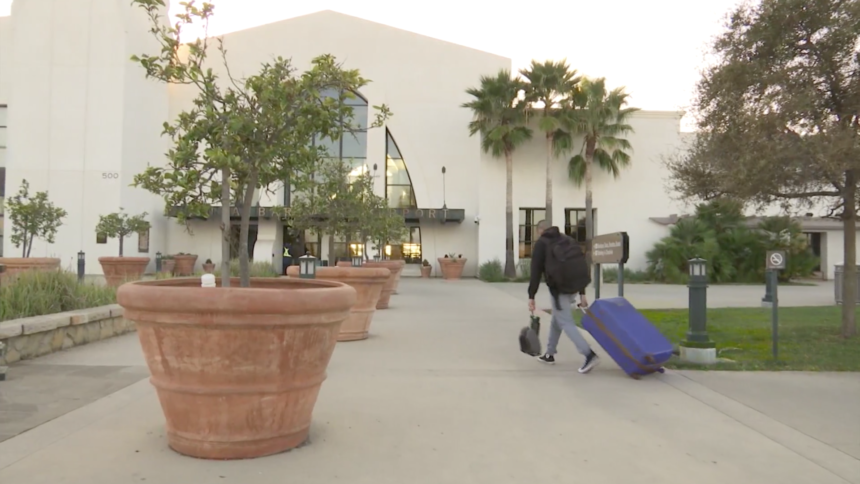 SANTA BARBARA, Calif. - The Santa Barbara Airport saw more passengers in 2019 than in any year ever before. And with more new flights on the way, 2020 could be another record-setting year.
In 2019, 998,691 passengers flew through Santa Barbara Airport, a 27 percent jump from 2018.
The airport is expecting to grow another 20 percent on top of that number in 2020.
The airport would have likely eclipsed one million passengers in 2019, but a C-130 aircraft's emergency landing at the airport last August shut down normal runway operations for nearly 24 hours.
Delta Airlines returned to the airport last summer and helped that number take off. Delta's new direct flights to Salt Lake City have become very popular.
"That flight was completely full today coming in," said passenger Craig Mally, who often takes the flights between Salt Lake City and Santa Barbara.
But the climbing passenger numbers are not just coming from new carriers.
"Even the carriers that we already have—Alaska, United, American—those carriers added more flights and they added larger planes," airport spokesperson Deanna Zachrisson said. "So larger planes mean more seats available, and folks are filling those seats."
On average, passengers are filling about 80 percent of the seats on Santa Barbara Airport flights.
More and more people are opting to avoid the turbulence that can come with a drive down to Burbank or LAX.
"This is 20 minutes from the house," Mally said. "No lines, no waiting. Very efficient airport… so hopefully it stays that way going forward and they just keep expanding, but not too much."
That's the new challenge for the airport: how to keep growing, while also making sure parking and security lines don't start to get too crowded.
"It's really up to the airport to really remain vigilant," Zachrisson said. "Really, really keeping our finger on the pulse, where the growth is… As the needs come up, we're just really aggressive in trying to stay in front of them."
New flights coming to the airport in 2020 include an additional seasonal Alaska Airlines flight to Seattle, beginning in May, and a daily United Airlines flight direct to Chicago, beginning in June. Frontier Airlines will also continue seasonal service to Denver this summer.
"As long as the flights are coming and the passengers are booking those seats, we'll continue to grow," Zachrisson said.