Garden Street Academy in Santa Barbara to temporarily close next school year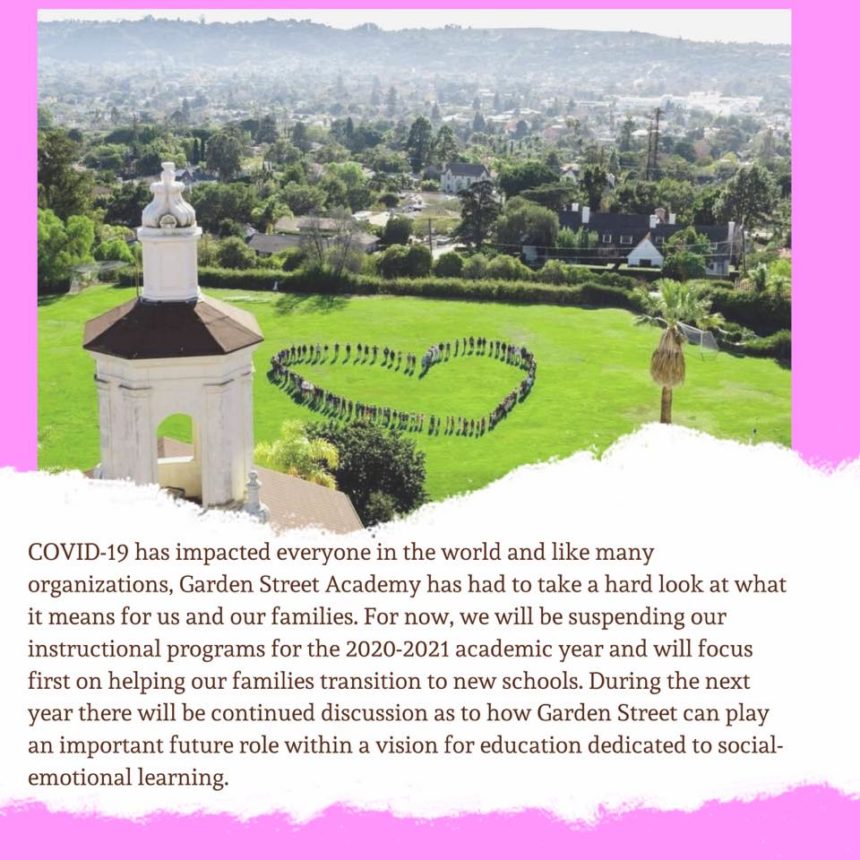 SANTA BARBARA, Calif. - Garden Street Academy in Santa Barbara sadly announced to families and students in a letter that they plan to temporarily close their doors for the 2020-2021 school year.
The school said it is unable to formulate a satisfying plan to continue business and education during this pandemic.
The letter reads in part:
Dear Families,

COVID-19 has impacted everyone in the world and like many organizations, we at Garden Street have had to take a hard look at what it means for us and our families. Our goal always is to look at the surrounding circumstances and make decisions that are in the best interest of the children and families in our care.

In the last few years, our school program in Santa Barbara was beginning to develop as a sustainable institution and we began to explore plans for expansion in Southern California. While we continue this exploration, we are in the process of reimagining our operations in Santa Barbara, mostly because it is not feasible in this new reality to continue with business as usual under the cloud of this pandemic. We have looked in great detail at many different scenarios. Our decision making process included potential public school plans and state guidelines for reopening (split instructional days, 6 feet distancing of desks, mandatory use of masks and gloves for all students) as well as projected enrollment and the possibility that we would have to close campus again in the fall. There is simply no plan that makes sense for us and our community at this time. Sadly, that means that we will not be able to continue to operate as a comprehensive K-12 program in Santa Barbara for next year in a manner that is of the best possible service to our community. Therefore, we will be suspending our instructional programs for the 2020-2021 academic year. During the next year there will be continued discussion as to how Garden Street can play an important future role within a vision for education dedicated to social-emotional learning.

Angela Jevons, General Manager at Garden Street Academy
The school ended the letter by encouraging families to talk with their children about this change as well as consider the best alternatives for the following school year.
Teachers will also be making the announcement during a morning meeting at school.
For more information and to contact the school, visit their website at gardenstreetacademy.org.
Garden Street Academy is an independent nonprofit K-12 school located at 2300 Garden Street in Santa Barbara.