SBCC holds vigil in honor of couple killed in Goleta hit-and-run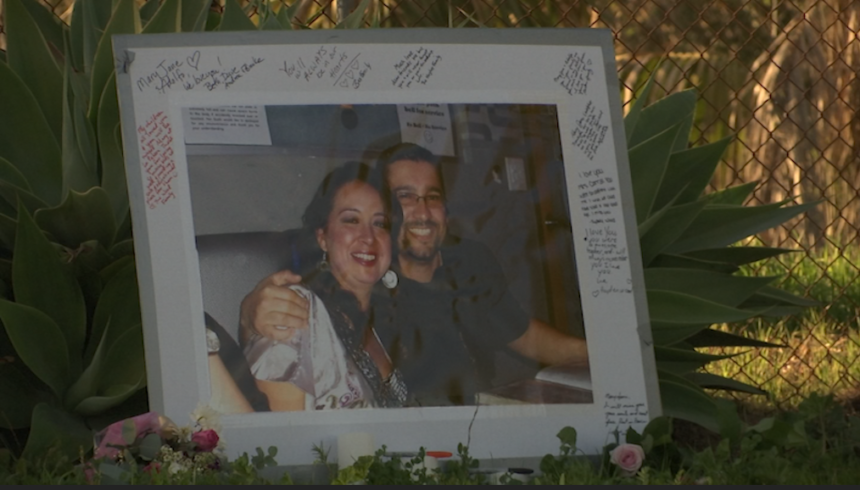 SANTA BARBARA, Calif. - Santa Barbara City College honored two people who were killed in a suspected DUI hit-and-run crash.
Adolfo Corral and his wife, Mary Jane Becerra Corral from Goleta were killed by a suspected DUI driver on Sunday.
Adolfo Corral was an employee at SBCC. Mary Jane worked as a computer specialist at La Patera Elementary School in Goleta.
A vigil with speakers, prayer and music was held at the Santa Barbara City College West Campus on Wednesday. Hundreds came to the ceremony to remember the Corrals and show support for the family.
Several colleagues, family and friends spoke at the ceremony.
"Adolfo literally shone," Santa Barbara City College Vice President Pamela Ralston said. "We are grateful to have had him for as long as we did."
Adolfo worked at City College for more than 15 years and left a lasting impact across the whole campus. He worked at the STEM Center, Extended Opportunity Programs and Services (EOPS), the food pantry and more. And at each stop, he was a mentor and a role model.
"I had no one to guide me in college," former student Alisha Sanchez said. "But when I arrived, I met this man who sat in one of the back offices of EOPS with his little checkered shirt, his dad jeans… and that man saw something in me that I never saw in myself."
"The students love you," a tearful Lorena Cisneroa Lopez of SBCC STEM Center said to Adolfo. "And you earned the love of every single student that got to meet you. Thank you Adolfo, thank you for caring and supporting the STEM family."
Teachers from La Patera Elementary also spoke in memory of Mary Jane, who was a loving source of inspiration for her students and kids.
"[Mary Jane] was the perfect person to make Adolfo appear normal," SBCC colleague and family friend Michael Medel said. "She was beautiful. She was smart. And she had such a quiet confidence about her."
Adolfo and Mary Jane's daughter Azalea spoke with tears in her eyes at the ceremony, reading some of the kind messages sent to her family.
"My mom was always so nice to everybody, even if she didn't like them and would tell me later," she remembered with a laugh.
Adolfo and Mary Jane were both 44 years old. They leave behind four children according to a GoFundMe page set up by family members.
The driver of the vehicle that struck and killed Adolfo and Mary Jane has been arrested and charged with two counts of vehicular manslaughter. He is being held on a $1 million bail.