San Marcos High School prepares for "unique" 2020 graduation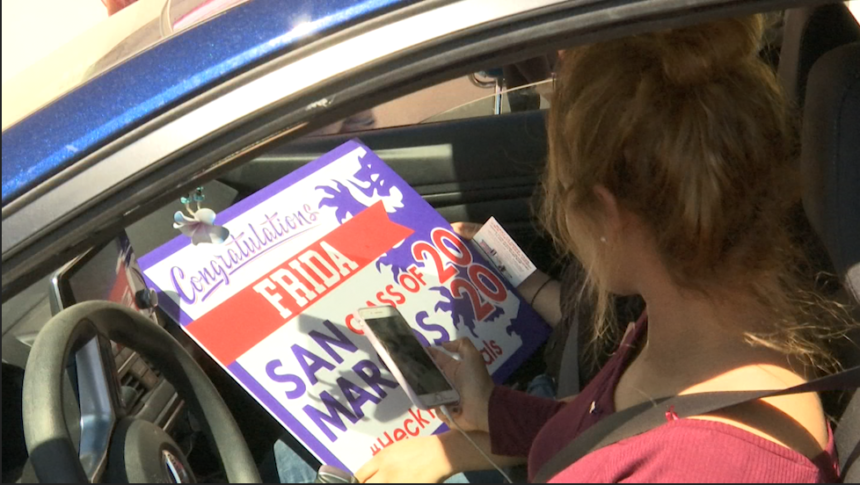 SANTA BARBARA, Calif. -- Soon to be graduates will have caps and gowns, but unfortunately no stage to cross due to the cancellation of the rest of the school year amid the COVID-19 pandemic.
San Marcos' graduating class will join most of the Class of 2020 in having a non-traditional graduation.
On Thursday and Friday, students from across the Santa Barbara Unified School District gathered their caps and gowns as well as lawn signs to celebrate their high school graduation.
Andy Nguyen is the San Marcos class president. He said, "The Class of 2020 is a unique class. We were born right after 9/11, we're graduating in the middle of a pandemic. I think it will be cool to have a unique graduation."
San Marcos High School's Class of 2020 is already preparing for that unique graduation celebration.
Aaron Solis is San Marcos High School's activities director. He said, "So you have the whole gamut of kids. And that's what makes this kind of sad. But we're going to improve, adapt, overcome and figure out a way to do this."
Students and their families will be invited on campus, but they have to stay in their cars as part of a drive-in style graduation. The school will broadcast the speakers for everyone to watch on their devices in their cars, adhering to Public Health physical distancing guidelines.
San Marcos senior Hannah Meyer said, "Of course I'd rather walk with my friends and get to take those pictures and listen to our ASB president speak, but this is still a pretty memorable way to end senior year."
On Thursday, the San Marcos High School principal handed out signs at some students' homes. The idea is to let neighbors know about graduating seniors and help them celebrate.
For those seniors who came to campus to pick up their cap and gown, it was bittersweet to see their friends and teachers.
"I'm excited to just be able to give my friends a hug, and tell them how much I love them," said Meyer. "And how much fun they've been over the past four years. And that I'll miss them next year. And just hopefully we can have a fun big beach day."