Farmers' Market site relocation meeting starts a possible two-year process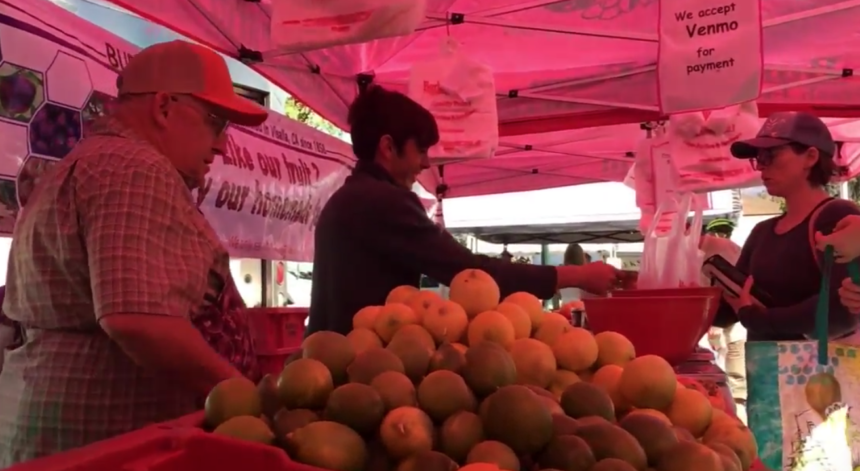 SANTA BARBARA, Calif. - The process to find a possible new location for the Saturday Farmers' Market in Santa Barbara is not into crunch time just yet but at a special City Hall meeting efforts began to look at sites that could work.
Santa Barbara Certified Farmers' Market Executive Director Sam Edleman said, "There's still a lot of unknowns and we really don't have any feasible options at the moment."
He said it's not a process that can be relocated as easy as people think.
"We've got 3,000 to 5,000 people coming here every week we have to accommodate. We have 100-plus farmers that rely on this market specifically. So when, in the event, we find a new location down the road moving the market is a major undertaking and two years is going to fly by," said Edleman outside of City Hall. 
The Cota Street commuter lot has been named as the priority spot for a badly-needed new police station, but the environmental report is not finished and there could be issues. The city favors the site because it is property already owned by the taxpayers and buying a new site could cost millions of extra dollars. The police station is already estimated to have a price tag that will be in excess of $70 million.
At the same time, 7000 signatures have been gathered from people who don't want to see the market move. It's been in the Cota location for more than three decades.
Debby Takikawa is a seller at the market. "I know that those are not necessarily city residents but a large number of them are and it's really important to hear that," she said. 
Farmers also say this market is stronger than any other one they put on during the week and finding a solid location is critical.
"If our next market location drops by five percent it will make a huge dent," said Takikawa .
Santa Barbara City Council member Kristin Sneddon said input and suggestions from the public has been very valuable "to remind us of how important the Farmers Market is and to keep reminding us of the needs of not just the people who use the market and go to the market but those who are putting the market on. They have really specific insights into what makes a successful market."
Early next year the city is expected to have a short list for new Farmers' Market sites. It's not clear when they can expect a report on the police station project.
Getting ahead of the decision deadline is considered important and a necessary collaboration. 
"We benefit from the farmers market and we support the farmers market in our whole community and we really want this to be successful," said Sneddon.
Recently there was a listening session where the public, farmers and city staff reviewed maps to find locations and talked about elements of a successful market.
They included a safe site, one that was close to shops and restaurants along with adequate space for car and bike parking. Many attending also said the market could be a different experience than it is now with more arts, food demonstrations and music.
Some of the suggestions including using "T-intersection" concepts. For example, De La Guerra and two blocks of State Street. Another site was Parking lot 11 behind Institution Ale. There more than a dozen other locations suggested as well.