Deckers Brands teaches Lompoc high school students ins and outs of business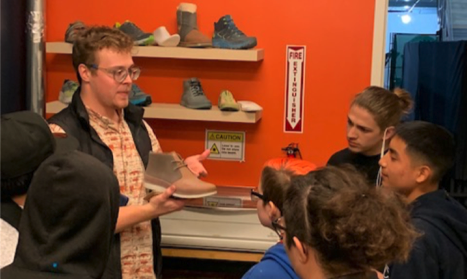 LOMPOC, Calif. -- Students from a Lompoc high school program got to learn the ins and outs of business earlier this month thanks to Goleta-based Deckers Brands.
Maple Makers is a program from Maple High School that teaches students about the economics of entrepreneurship through a student-based business. Students in the program create various clothing items, design logos and more.
Students got the chance to visit Deckers Brands on February 5 to see the business concepts in action.
Students learned about the innovative product development process for both the Ugg and Teva brands.
The Deckers marketing team shared their insights into building a brand and gave students real ideas on how to improve the Maple Maker marketing efforts.
Students also got to see a Virtual Reality store and a 3D printing lab.
Maple High School Principal Katy Wallace thanks the business for placing a conscious effort in improving the community around them.
Lompoc Unified School District Superintendent gave the following statement:
"We are always looking for innovative ways to teach our students. Maple Makers provides just that. Couple that with an opportunity to see a community-minded business using those same fundamental skills- well, it's powerful."

Superintendent Trevor McDonald, Lompoc Unified School District
For more information about Deckers Brand click here.