Laguna Blanca STEM coordinator chosen for Fulbright teaching exchange in Ghana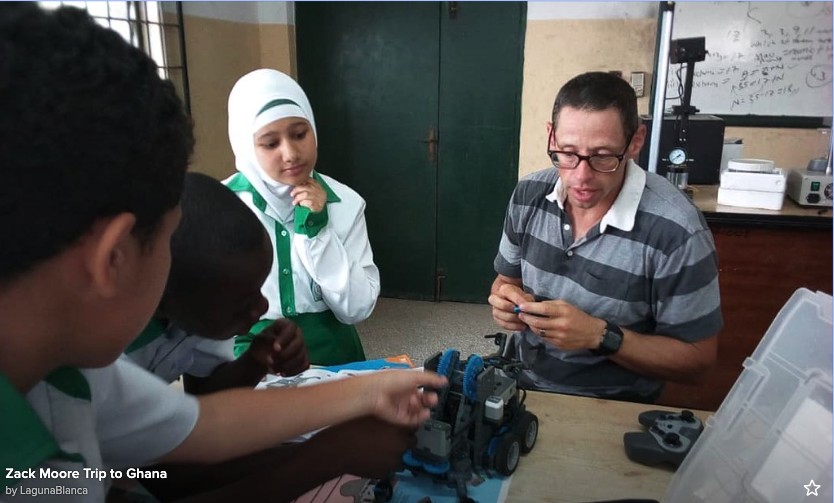 SANTA BARBARA, Calif. - Ghana, a former Third World country, is having an impact on Laguna Blanca, one of the Santa Barbara's top-rated private schools.
Credit goes to the school's STEM Coordinator, Zack Moore, one of 13 Americans who were part of the prestigious Fulbright Program's flagship international educational exchange in 2019.
Moore and his family recently returned from a month-long teaching stint in Ghana.
Ironically, Moore taught physics in the West African country when he was 23-years-old while volunteering with the Peace Corps.
"It was almost serendipitous. It was like, wow -- this is my chance to go back and go to a place where I started my teaching career and a chance to do something," Moore told reporter Beth Farnsworth. "I know I have the skill set to do something really meaningful there. Not that the Peace Corps wasn't meaningful, I was just very new. My concept of what good education was at that point in time was very different than it is now."
Moore taught Ghanaian teachers how to implement STEM education at Ghana-Lebanon Islamic School and worked with the secondary and primary schools, teaching the girls about robotics and coding. He also oversaw the younger girls' robotics competition.
"Really, really wonderful event. We had some of the older girls mentor the younger girls, it was really well received; the U.S. Embassy came out and provided prizes. The girls were just enthralled."
Moore said he's incorporating aspects of the Ghana girls' team with Laguna Blanca's Girls Robotics Rally happening in March.
At the same time, he's hopeful that he made a life-changing impact on his students, a world away.
"My dream of something like that is, one of these 12-year-olds that was in the competition who'd never seen or experienced something like this before is going to reach out on WhatsApp 10 years from now and say, like, 'Hey, I'm studying computer science at some university somewhere and this was the catalyst for it.'"
Moore said as part of the Fulbright exchange, his Ghana teaching partner will travel to Santa Barbara in January for a teaching stint.
NewsChannel 3 hopes to bring you that part of the story then, in 2020.
For more information about Laguna Blanca School, click here: https://www.lagunablanca.org/