Cal Poly Students engineer robot to help fight wildfires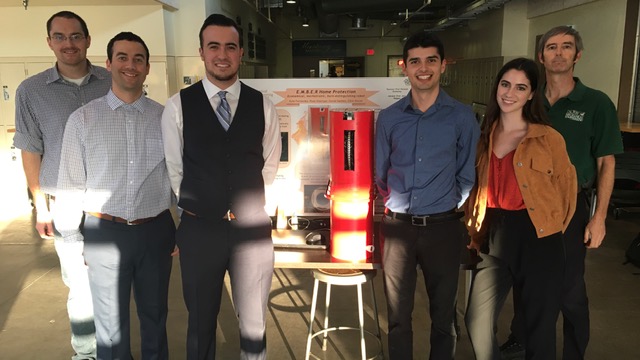 SAN LUIS OBISPO, Calif.- A team of Cal Poly students engineered a robot as a solution to wildfires. The robot named Ember may be small in size but could have a big impact in saving your home from a fire.
The Cal Poly students went on a year-long journey to make the device.
"This project was proof of a concept to see if this device could detect fires outside and be able to suppress them, " said engineering student and Ember project member Chris Slezak.
The idea stemmed after the devastating California Camp Fire destruction that killed over 85 people.
The device works by using a therma camera that detects fire.
"The device rotates around looking for fire and when it finally sees it, it will lock on to where the fire is and turns on water to extinguish it," said engineering student and Ember project member Daniel Santoro.
"Once it detects something it centers on the source of that and then it puts out a 25 foot wall of water to extinguish the fire. And as soon as it's out it continues patrolling," said engineering student and Ember project member Ryan Kissinger.
The engineering students focused on making the device affordable and hope it will one day sell as low as $100.
"If you lose your home to a fire that's 10% of what your house is worth that you have to pay back to insurances. So $100 to have a better chance of not doing that is definitely worth it for most people," reasoned engineering student and Ember project member Kylie Fernandez.
The goal the students aimed for was to find a way to help assist firefighters while keeping people safer.
"The next step is to keep iterating this so it can hopefully be a consumer project that can be used in millions of yards to help prevent the spread of wildfires," said Slezak.
The group welcomes entrepreneurs and any businesses that see the potential to further develop the product.
Cal Poly and its students that created this technology are giving it away for free.
For anyone that's interested they can find out more information at the Cal Poly library.