Covid-19 numbers from Lompoc prison swaying Santa Barbara County's reopening timeline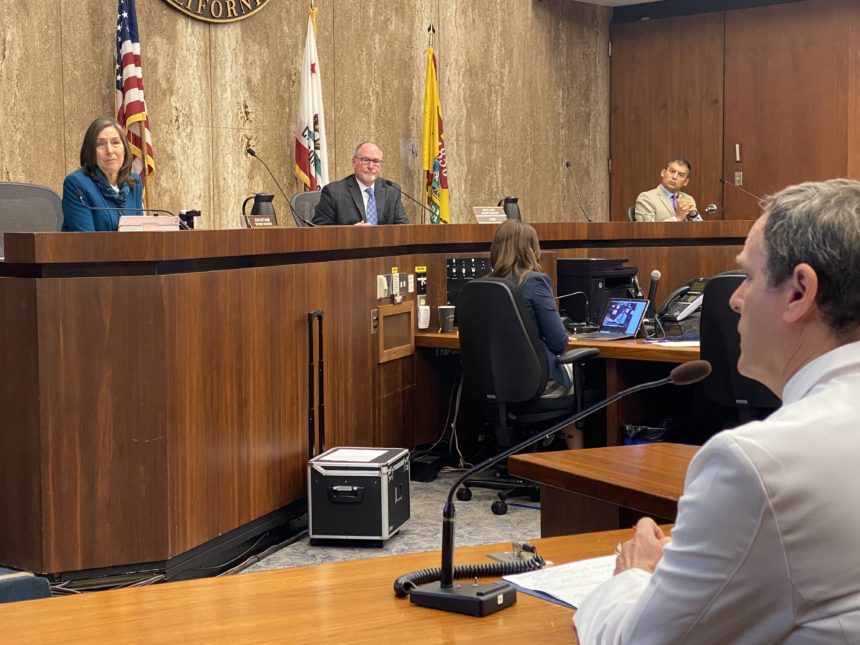 SANTA BARBARA, Calif. - Santa Barbara County is frustrated about it's timeline to reopen, in part, because of the number of growing cases at the Lompoc Federal Penitentiary.
Daily testing is underway. Over 900 cases have been documented. Most are prisoners.
There was a lapse in the testing process over the last month due to testing kits and an infrastructure to take action.
A makeshift temporary hospital site had to be built on the property.
With the number of cases going up, Santa Barbara County overall looks to be in a worse condition than it is without those numbers added into the overall total.
The county is sending a letter to the Governor to explain this and also ask for more funding assistance to deal with the health and economic concerns.
It also wants to have the numbers presented minus the prison totals as the county's total to base decisions on reopening.
INFLUENZA VS. COVID
A presentation by Santa Barbara County Health Officer Dr. Henning Ansorg showed Covid-19 was more infectious than influenza and they should not be compared side-by-side.
"Is Covid just a fancy influenza, by no means. The reason for that is that uh we look at a virus for how infectious it is. For influenza we do have a vaccine, it is not fool proof,  nobody is saying that.  Covid-19 everybody knows we don't have a vaccine."
With Covid, one person can infect 2 - 2.5 other people with the virus.
With influenza one person can infect 1.2  - 1.4 other people.

"California has a fatality rate right now of about four percent," said Ansorg.
Compared to Covid, the flu does not compare in terms of fatalities and how infectious it is.
Where the flu sometimes gets a false reporting on a death certificate, can depend on the past health of the deceased. "If someone has long standing health disease (smoking ) then develops influenza and dies," said Ansorg, they are listed as a death from influenza.
With the recent data when it comes to Covid, he says,  "our recovery rate locally is quite good."
Supervisors Joan Hartmann said she was interested in talk of a second wave of Covid impacts and if it could come back later in the year. "What we are trying to avoid is a second spike" in the fall. She also suggested it would take time and be controlled in a "slow burn" approach through time, medication and social distancing rules.
Medications to treat Covid will be " a game changer" said Ansorg.
"To open the flood gates and let nature run its course," Ansorg says, "this is not feasible because in no time the death rate would go up and the hospital need would be overwhelming."
"If someone has long standing health disease (smoking ) then develops influenza and dies,"
When it comes to Covid, he says, "our recovery rate locally is quite good."
Supervisor Das Williams says people in the community have said they don't "know what we are doing." The phrase he hears often is "the goal posts keep on changing."
Looking to the future he said, "you can't avoid a secondary curve" without a vaccine.
He said the longer it goes, the situation undervalues the health effects on families, and "thousands of people descending into deeper poverty." Williams says it will impact children growing up in extreme poverty.
MESSAGE TO SACRAMENTO
This staff report also recommends that the Board send a letter to the Governor and State Public Health Department requesting changes to the State's newly issued variance readiness criteria.
In particular, we ask that the State exclude cases from the federal prison in Lompoc from the Santa Barbara County case counts for purposes of meeting the readiness criteria.
Public Health Director Van Do-Reynoso says there's a series of checkpoints to move the county through different phases of reopening as outlined by the Governor. It breaks down to no more than one case per 10,000 residents for the past 14 days. Based on the population numbers, in Santa Barbara County that means, "no more than 45 new cases and no Covid-19 deaths for the past 14 days."
Last week we were in good shape. This week it is completely off and worse. That is based on the increasing Lompoc numbers from the prison Do-Reynoso says the county is unable to achieve the goals at this time based on cases and death totals.
She said testing is increasing countywide at three locations.
For now in the local hospitals, if cases increase the county has room for "surge capacity."
"The reason we are doing social distancing is because we didn't want to overwhelm the health care community. We did an amazing job of that," said Supervisor Steve Lavagnino.
He would like to see if the data information can be reconsidered in a way to allow the county to reopen sooner.
Santa Barbara County has suburban, urban and rural living conditions which has a bearing on where restrictions can be loosened.
The supervisors agreed the formula doesn't make sense. They cited the criteria as it applies to the smallest counties and the largest equally.
COLAB representative and Congressional candidate Andy Caldwell told the Board in public comment that the county was no longer in "a state of emergency." He suggested local representatives in Sacramento help make the case to the Governor's office.
He also said restricted parking at beaches should be lifted citing there are no parking restrictions at large stores such as Costco or Lowes.
In public comments over the phone, Heal the Ocean Director Hillary Hauser said the impact on the beaches, beach parking and trash in waterfront areas is a serious problem. She says she has pictures of defecation and excessive trash around sites including Miramar and Hammonds Beach areas.
She is asking for restricted use of the beach areas. Hauser wants them for recreation only and not for outings that includes chairs, coolers, umbrellas and full day activities.
The County's says its objectives in this public health emergency response to COVID-19 are as follows:
1. Flatten the curve – reduce spread of infection and deaths
2. Reduce overload to heath care system
3. Protect health care workers and frontline responders
4. Protect other essential workers
5. Assist the most vulnerable affected by the pandemic
6. Assist with economic mitigation, reopening and recovery
7. Inform the public with accurate and timely information Emergency Operations Center. 
The response effort is coordinated through the County's Emergency Operations Center, focused on the Public Health's efforts to mitigate the infection and reduce an overload to the health care system.
Watch for a full report tonight on KEYT NewsChannel 3, KCOY NewsChannel 12 and KKFX Fox 11.
(More details and video will be added here later today.)