Allan Hancock College says farewell to 16 retiring faculty and staff members during virtual retirement ceremony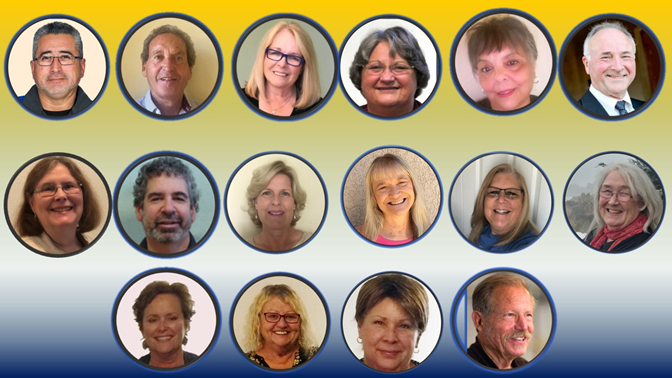 SANTA MARIA, Calif. - Allan Hancock College said goodbye to 16 faculty and staff members who, altogether contributed 342 years of service to the college.
The farewell ceremony was held virtually and can be viewed again on YouTube.
The nearly 40-minute ceremony displayed the pictures and names of each worker alongside a playful bio, personally recognizing qualities or characteristics about each person.
One example involves Dr. Richard Seidenberg who was recognized alongside the following statement: "Rich is hereby dubbed a master of space-time, having put up with the sharing of his office with innumerable stuffed animals with various paws, limbs, noses, tails and other areas bandaged, doing so as good-naturedly as possible."
"The fact that we cannot celebrate in-person should not dampen our enthusiasm for recognizing our new cadre of retirees," said Hancock Superintendent President Kevin G. Walthers, Ph.D. "Their years of dedication and hard work have helped change the odds for our students and created a strong sense of community for everyone in our Hancock family."
The retirees honored at this year's virtual ceremony included Hancock chemistry and physical science professor Steve O'Neill, who retired after 49 years at the college, as well as longtime Hancock athletics equipment manager Danny Avila, who is retiring from his post after 38 years. Gloria Landeros, an administrative assistant with Hancock's Athletics department, was the retiree with the third-longest tenure at the college, working for 35
years before retiring.
The full list of this year's retirees includes: Steve O'Neill, professor of chemistry and physical science, 49 years; Danny Avila, equipment manager, 38 years; Gloria Landeros, administrative assistant III, 35 years; Sal Caminada professor of kinesiology and health education, 30 years; Candy Solano, account technician, 27 years; Karen Tait, professor of mathematics, 25 years; Denize Cain, professor of English, 23 years; Polly Blackburn, accounting supervisor, 18 years; John Lovern, professor of human services, 18 years; Rose Newton, accounting services technician,17 years; Bonnie Friedrich, professor of nursing, 16 years; Tammy York, library and multimedia service technician, 13 years; Mary Alice Majoue, Math Center coordinator, 11 years; Jude Garner, library and multimedia technician, 10 years; Richard Seidenberg, associate professor of veterinary technology, 7 years; Brenda Shintaku, library and multimedia technician, 5 years.
Hancock also honored additional faculty and staff during the event. Jeffrey Appel, Maria Arvizu-Rodriguez, Jamie Astacio Rivera, Joann Bellrose, Christine Bisson, Benjamin Britten, Seth Damron, Brent Darwin, Janae Dimick, Chad Kelly, Linda Kelly, Danea Madrid, Lisa Marsalek, Ricardo Navarrette, Trevor Passage, Carissa Perales, Jennifer Schroeder, Michael Serpa, Christopher Straub, Kiri Villa and Dayana Zepeda were all recognized a newly tenured faculty during the ceremony.
Hancock staff members Brenden Robertson, Brian Dill, Anna Rice and Diane Bergantz received the college's annual President's Award for their work to help Hancock transition to remote learning during the spring term. Hancock staff and student workers were also honored with an award for their work on the college's Food Share Because We Care program.