Santa Maria elementary students learn about Latino culture with help from local high schoolers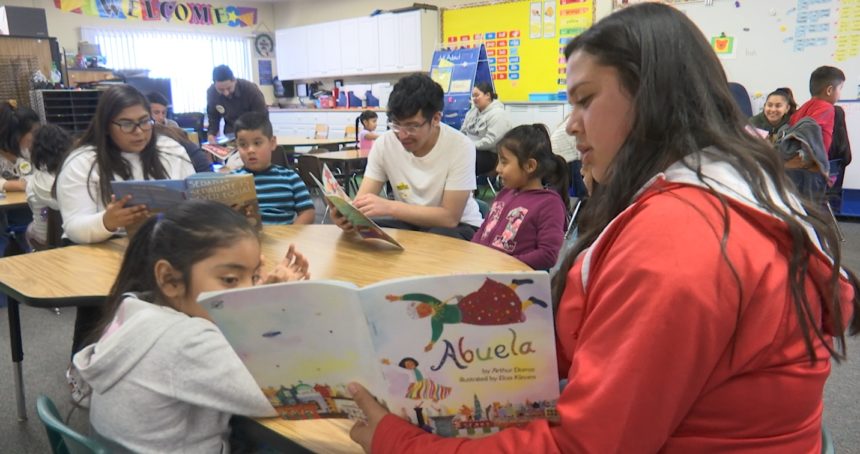 SANTA MARIA, Calif. -- Adam Elementary School students had an opportunity on Monday to learn about Latino culture and heritage with the help of Santa Maria High School students.
About 70 Santa Maria High students from the school's Chicano/Latino program read books to elementary students during the Adam Elementary's kickoff to "Read Across America" week.
"We were invited by Adam School to read children's books to the kids," said Santa Maria Chicano/Latino studies teacher Ricardo Valencia. "They specifically read children's books, either by Latino authors or featuring primarily Latino protagonists."
Valencia emphasized that research indicates less than five percent of children's books feature Latinos.
"We wanted to showcase books where our young people can be proud of their culture or get to know another culture and embrace their Latino identity if that's something that they were a part of," said Valencia. "When our young people read diverse literature, it empowers them and it causes them to want to achieve their goal and do better academically."
The high school students were on campus for about five hours. Each had the chance to read to several different class levels.
"It was really fun," said senior Mirian Solano. "It's a different vibe because every student is so energetic, especially the first graders. Once I walked in their faces lit up."
Solano, who attended Adam Elementary several years ago, said the reading provided an educational opportunity for both the elementary and high school students.
"For me, it was to have patience and see things from a different perspective," said Solano. "For them, I feel like they got to see how high school life is like and how different backgrounds are."
Santa Maria students have read at Adam Elementary several times over the past few years.
The reading comes as the school begins Read Across America festivities.
Read Across America is a national educational effort that promotes literacy. The event is held around the birthday of famed children's author Theodor Seuss Geisel (Dr. Suess).
During Monday's reading, kids listened as the high school students read books that were both fictional and non-fiction.
"I think history, in general, is important to learn more about, not just yourself but your people," said senior Mario Hernandez. "To learn about this helps you learn about the struggles of what Mexicans have gone through, Asians, blacks, everyone in general. It's something to know so it's something that you can be proud of."