How schools and students are bridging the digital divide when technology isn't universally accessible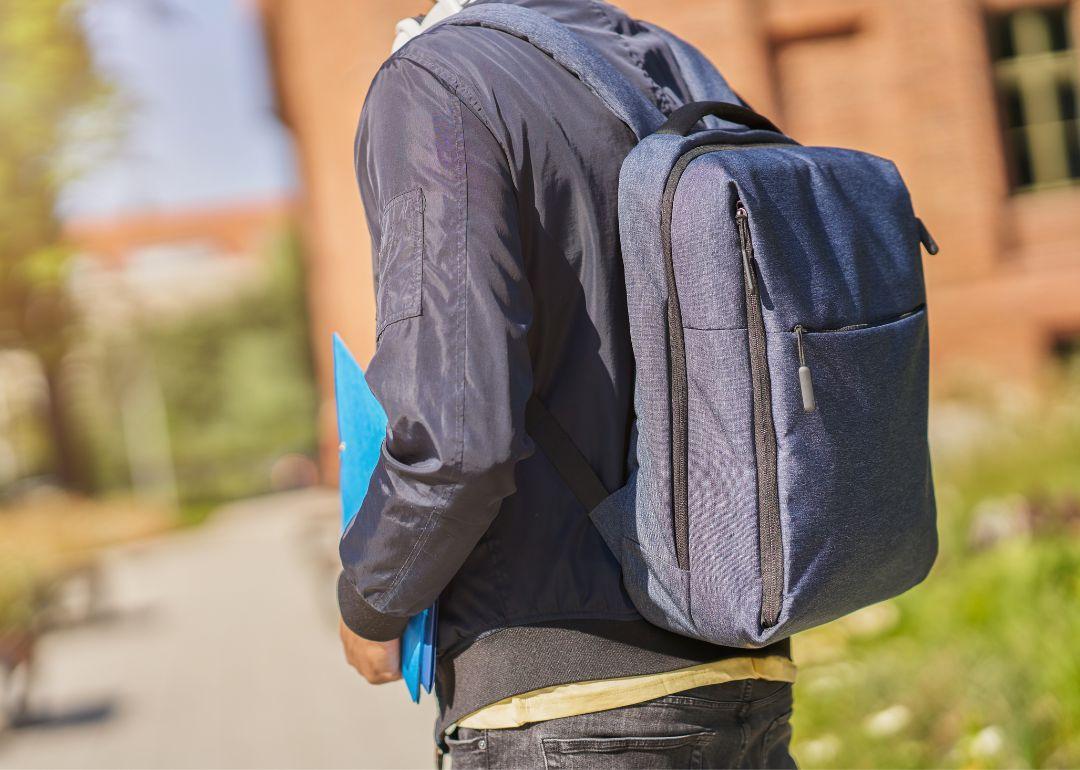 Canva
How schools and students are bridging the digital divide when technology isn't universally accessible
A student walks outside a high school with a backpack.
The digital divide, defined as unequal access to digital devices and high-speed internet, has profound implications for academic disparities in the United States. According to a study by the Pew Research Center based on 2015 Census Bureau data, approximately 17% of American teenagers can't complete school assignments due to a lack of home access to technology.
The introduction of computers into classrooms began in the 1980s, spurred by federal funding under the 1963 Vocational Education Act. However, it was not until the beginning of the 21st century that nationwide implementation of technology in education occurred.
The widespread adoption of email, video, and other digital media in classroom education has transformed how teachers assign homework. In a 2020 survey by the National Center for Education Statistics, 77% of public school teachers with classes in grades 3-12 reported assigning technology-based homework, with nearly a fifth of them saying they do so frequently. The COVID-19 pandemic further amplified schools' reliance on technology, with over 7 in 10 schools reporting shifting to online learning in early 2020.
This ubiquity of technology-based education disproportionately affects children from low-income households. Among households with school-aged children and an annual income of less than $30,000, 35% do not have access to high-speed internet at home. This figure drops to 6% for households earning more than $75,000 annually.
Various government initiatives aim to address this issue. These include the Affordable Connectivity Program, which subsidizes broadband access and devices for low-income households and encourages providers in high-cost areas. Federal initiatives like the Broadband, Equity, Access, and Deployment program are also in place.
The digital divide is further widened by inequities in digital literacy, especially at the higher education level.
EDsmart compiled a list of ways K-12 schools, colleges and universities, and students are bridging the digital divide based on data analysis from several sources, including Educause and Pew Research.
---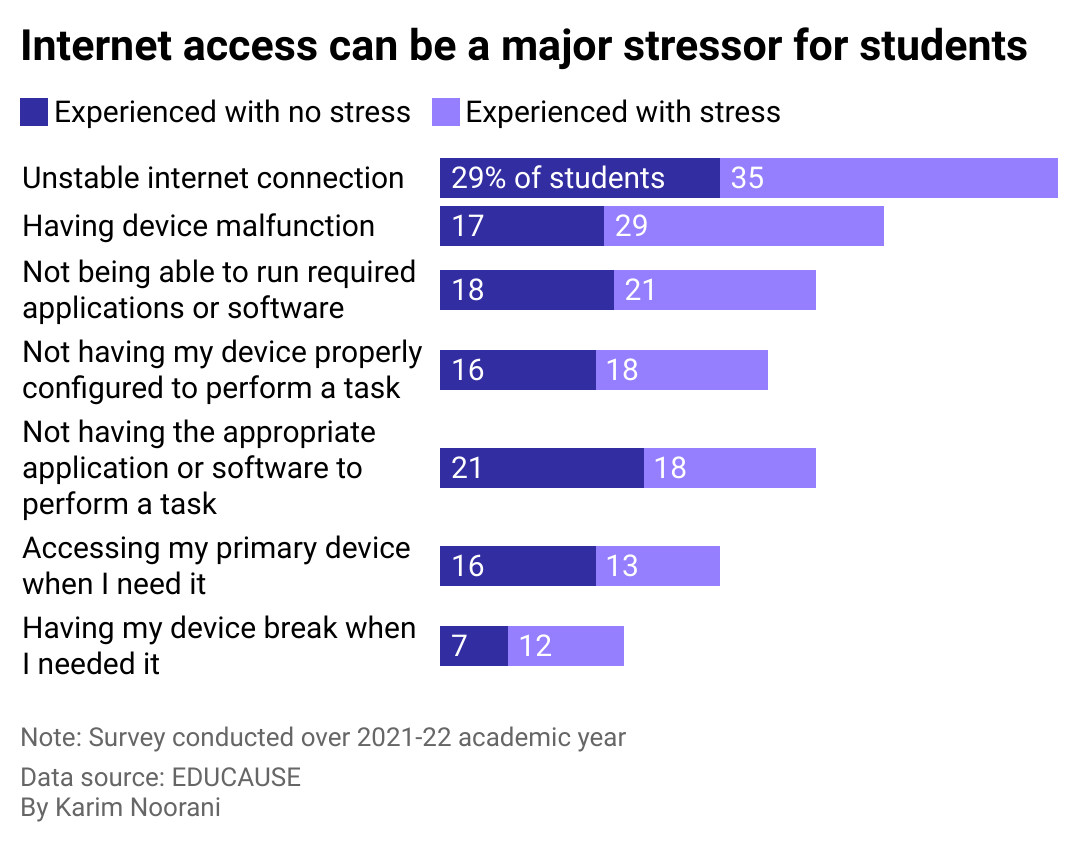 EDsmart
Expanding internet access on school grounds and at home
A bar chart showing major stressors for students, including unstable internet connection, device malfunctions, and not being able to run required applications.
A Pew Research Center study found in 2018 that 1 in 8 teenagers must occasionally use public Wi-Fi networks to complete school assignments due to a lack of at-home broadband access.  For Black teens, access to Wi-Fi is even worse, with 1 in 5 reporting relying on public Wi-Fi for homework. Providing high-speed internet on school grounds could significantly help bridge the digital divide.
A 2022 report by Connected Nation revealed that 41% of U.S. school districts still do not meet the Federal Communications Commission's bandwidth goal of 1 Mbps per student. Disparities in the cost of high-speed internet connections contribute to the noted "broadband gap" among schools. In 2020, districts meeting the bandwidth requirement paid an average of $1.50 less per megabit than districts falling short of the goal.
On the higher education level, colleges nationwide have sought solutions to unreliable and slow broadband on their campuses. For instance, Midland University in Fremont, Nebraska, has equipped classrooms and residence halls with enhanced technology for comprehensive Wi-Fi coverage. Kent State University has increased its network resilience and agility by automating and streamlining its wired and wireless infrastructure monitoring.
---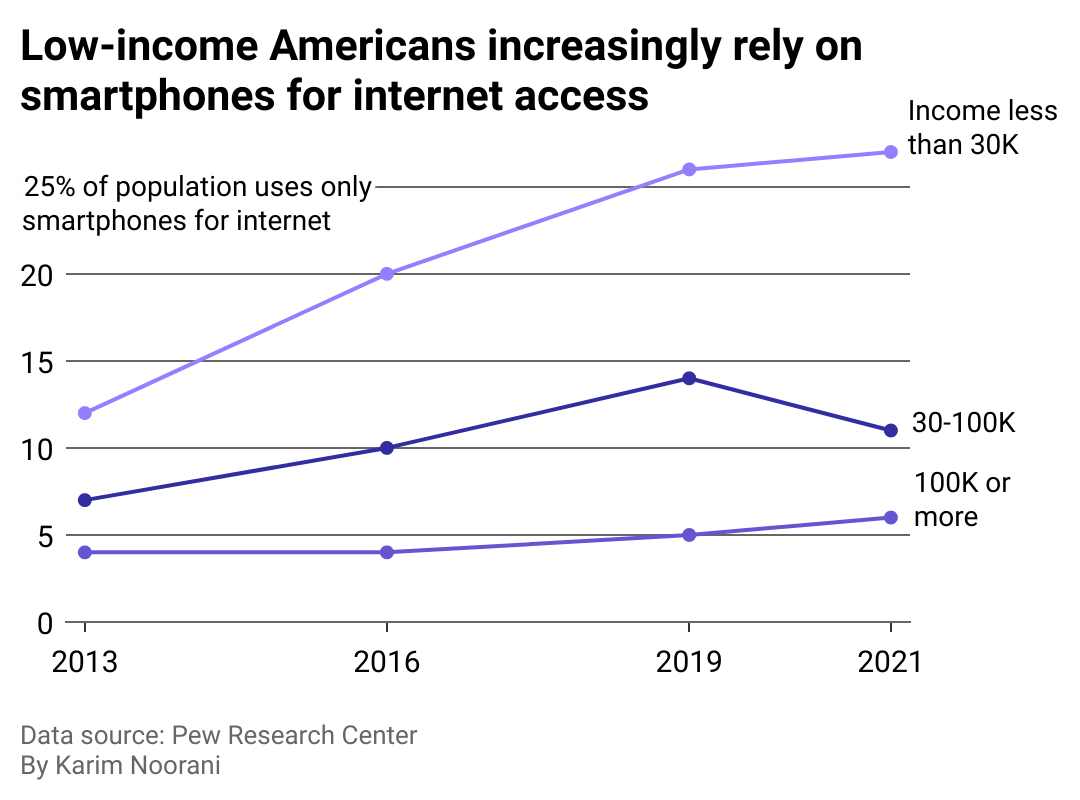 EDsmart
Turning to smartphones for schoolwork
A line graph showing percent of population by income who only use smartphones for internet from 2013 to 2021.
Low-income Americans increasingly rely on smartphones as their primary internet access device. The average smartphone price has decreased annually since 2019, when the U.S. government began collecting consumer price data, with a 24% drop recorded in 2022. This improved affordability of smartphones accounts for their increased use among low-income individuals, thus narrowing the digital gap.
Smartphones have also become essential tools for modern students. According to the 2021 Educause QuickPoll report, 56% of undergraduate college students used smartphones as secondary devices for school assignments. Respondents cited mobility and greater reliability as reasons for their preference for smartphones over other devices.
---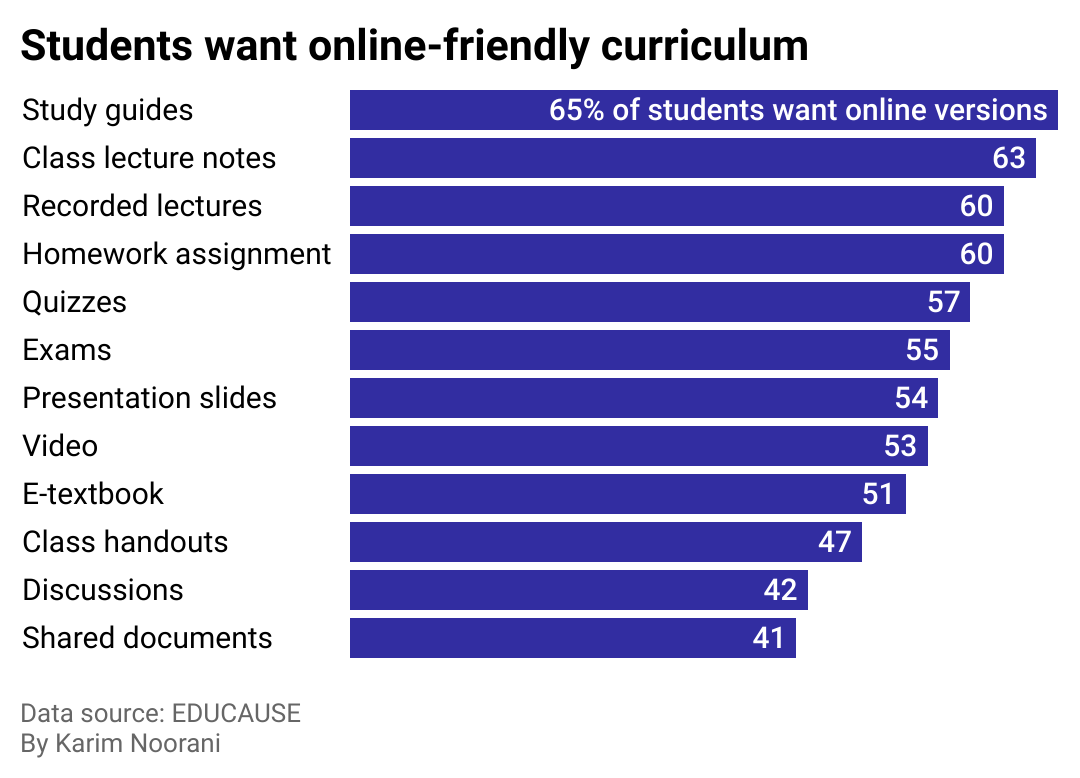 EDsmart
Adopting flexible lesson plans
A bar chart showing the percentage of students who want online-friendly materials, categorized by material type, including study guides, class lecture notes, and recorded lectures.
Schools are increasingly turning to flexible lesson plans to mitigate the effects of the digital divide, recognizing the post-pandemic shift in student preferences. Most college students continue to prefer entirely in-person lessons, as was the case before the COVID-19 pandemic. However, the proportion of undergrads identifying fully online instruction as ideal quadrupled from 5% to 20% between 2020 and 2022, according to Educause survey data.
Respondents listed disability, responsibilities outside school, and improved time management as reasons for preferring online learning. Nevertheless, students believe in-person elements of instruction remain crucial for social cohesion. Survey participants said face-to-face teaching allows for better engagement with classmates and teachers.
---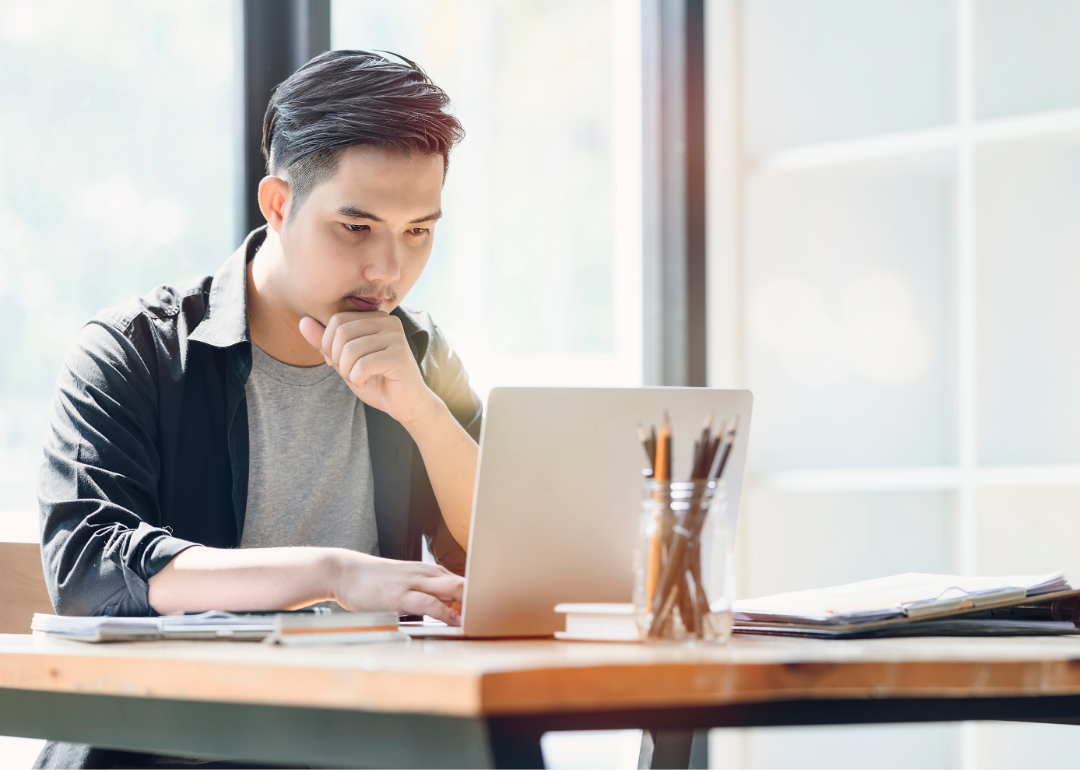 Canva
Improving tech support for students
A student looks intently at a laptop.
Schools can offer technical support to students involved in digital learning and their parents in various ways. This support could include personalized assistance in-person, over the phone, or online, along with supplemental resources such as video tutorials or printed materials.
However, according to a 2022 Department of Education report, many students often lack access to such assistance, especially outside regular business hours when it's most needed. A College Innovation Network 2021 survey found that only 56% of undergrads reported their schools' successful resolution of technology-related issues during the academic year.
Certain colleges have made significant advancements in offering digital assistance to students. Princeton University's Forbes College operates a dedicated support line for students facing technology-related issues, providing access to IT professionals, including real-time help via online chat. Northeastern University has expanded its IT support services, enabling students to visit the Tech Bar for assistance or use a mobile app to access technology services.
---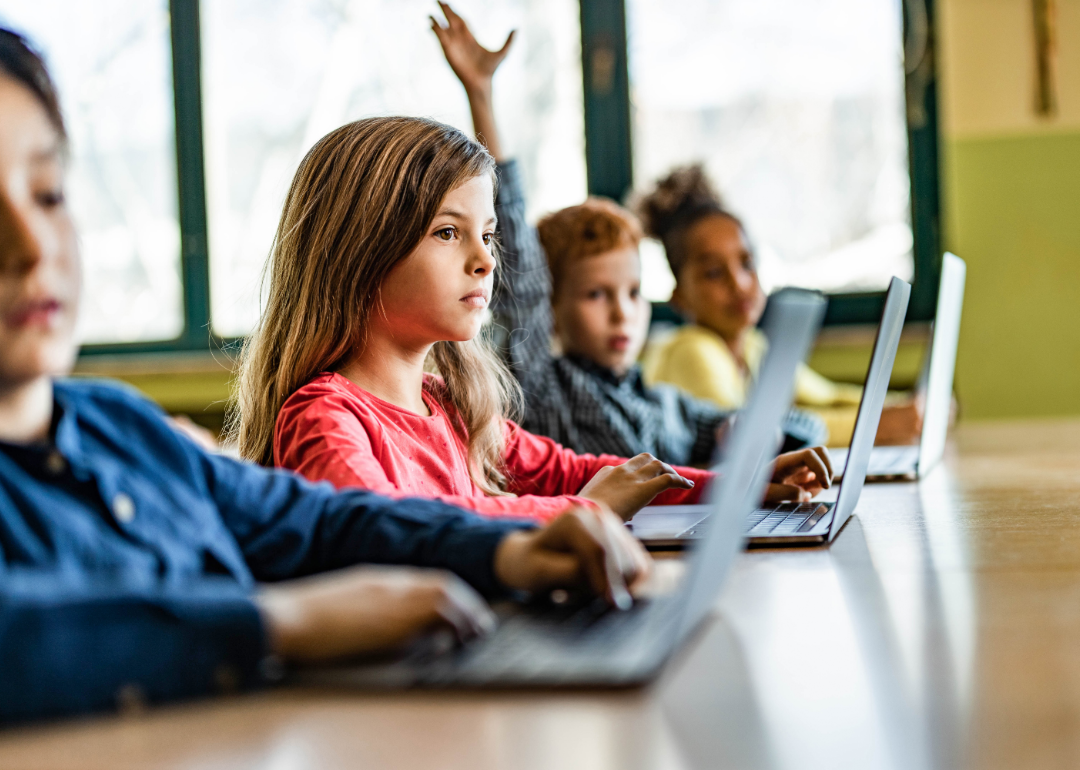 Canva
Getting innovative to help close the digital literacy gap
Young children in a classroom setting with laptops.
According to a 2020 study by the Student Experience in the Research University Consortium, 14% of undergraduate students cited a lack of familiarity with necessary technical tools as an obstacle to transitioning to remote learning.
Introducing innovative technologies such as artificial intelligence and robotics into classrooms may help bridge the digital literacy gap. The Tennessee government collaborated with Volkswagen to establish the Volkswagen eLabs—digital fabrication labs located in schools—and developed a districtwide "fab lab" model at STEM School Chattanooga that awards students digital badges for skill mastery. Oregon's Workforce and Talent Development Board created an AI Task Force to guide the state's development of AI talent and provide policy recommendations on AI impacts.
Melrose Public Schools in Massachusetts offer digital literacy classes for grades K-5 that meet weekly and introduce children to fundamental concepts such as the use of digital devices, algorithms, cybersecurity, and more. Similarly, Everett Community College in Washington plans to provide opportunities for students to learn how to use devices, track grades, create documents and prepare presentations.
Story editing by Brian Budzynski. Copy editing by Kristen Wegrzyn.
This story originally appeared on EDsmart and was produced and
distributed in partnership with Stacker Studio.
---