Small cities and towns are getting safer, while violent crime in large cities is on the rise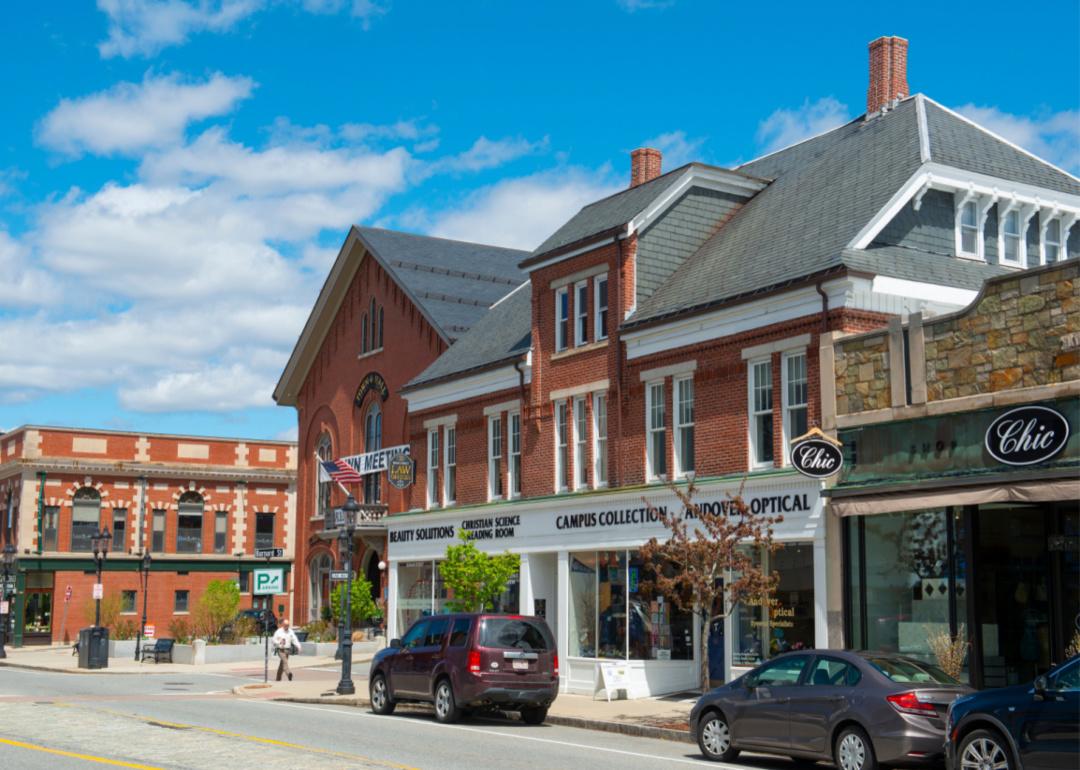 Wangkun Jia // Shutterstock
Small cities and towns are getting safer, while violent crime in large cities is on the rise
A street in downtown Andover, Massachussetts.
Crime takes a toll on communities — not just emotionally but economically as well. In addition to direct costs from loss of property, services for victims and policing and corrections, residents of higher-crime locales have a harder time finding the lowest-priced car insurance, homeowners insurance and renters insurance.
Seeking respite in America's smaller cities and towns has its appeal, but how much safer are small towns in reality? To test the theory that small cities and towns are the safest places in America, MoneyGeek analyzed crime statistics by quantifying the cost of crime and ranking 660 small cities and towns nationwide and in every state. Data on violent crimes such as murder, rape and aggravated assault are included, as well as property crimes such as burglaries and car theft. 
KEY FINDINGS:
– The cost of crime in small cities decreased by 5% from 2020 to 2021, while the cost in larger cities (100,000+ residents) increased by 6%.
– The safest town in the U.S. is Yorktown, New York, a suburb of New York City.
– Small cities and towns have 42% lower crime costs than larger cities.
– However, a small city or town can bear the same costs of crime as a large city. Pine Bluff, Arkansas, has a higher crime cost per capita than St. Louis, the large city with the highest cost of crime. Similarly, New York City has a cost of crime comparable to Cedar City, Utah.
---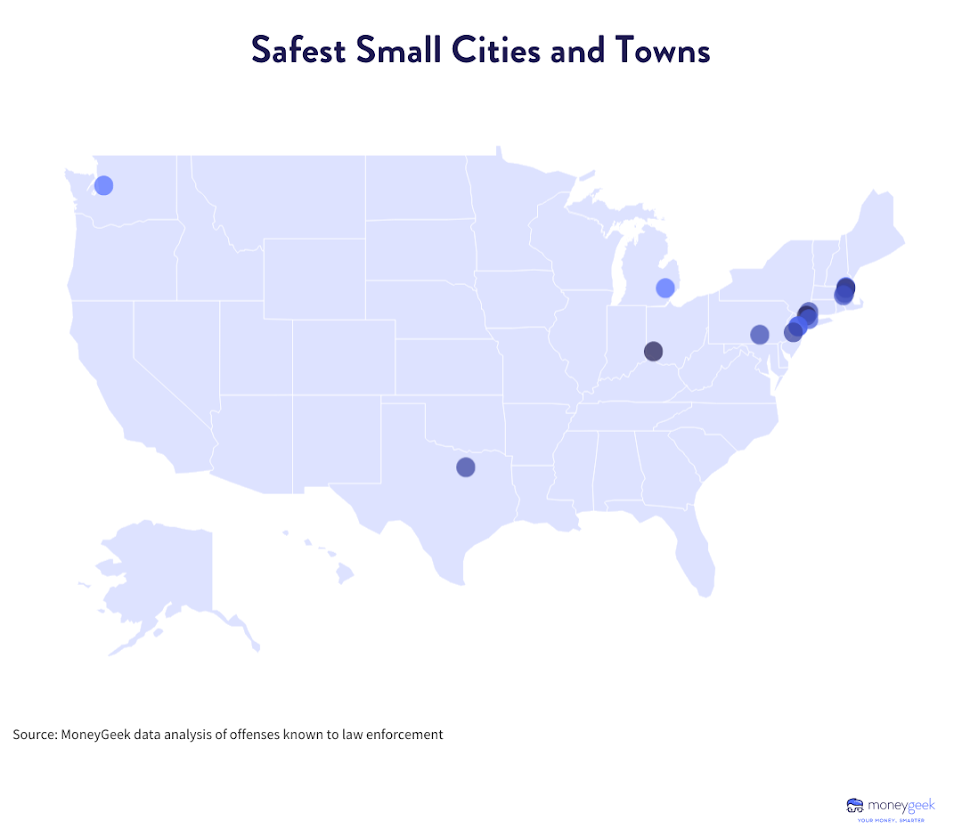 MoneyGeek
7 of the 10 safest small cities are in the Northeast
A map of the U.S. titled Safest Small Cities and Towns with dots marking the safest small cities.
More than 50 million Americans live in small cities and towns, but just how safe is small-town America? MoneyGeek analyzed crime statistics and quantified the cost of those crimes to identify the safest and least safe small cities and towns — those with 30,000 to 100,000 residents.
Most of the safest small cities and towns in America are in the Northeast or Midwest, with three of the top ten cities in New York or New Jersey, three in Massachusetts and one each in Connecticut, Pennsylvania, Ohio and Texas. The least safe towns are more distributed, with Pine Bluff, Arkansas, at the top of the list.
15 SAFEST SMALL CITIES AND TOWNS IN AMERICA
1. Yorktown Town, NY – $43 Crime Cost per Capita
2. Mason, OH – $47
3. Andover, MA – $51
4. Southlake, TX – $64
5. Arlington, MA – $65
6. Princeton, NJ – $65
7. Hampden Township, PA – $69
8. Carmel Town, NY – $74
9. Needham, MA – $77
10. Greenwich, CT – $81
11. Westfield, NJ – $85
12. Rexburg, ID – $86
13. Sammamish, WA – $90
14. North Andover, MA – $95
15. White Lake Township, MI – $95
THE SAFEST TOWN IN EACH STATE
– Alabama: Vestavia Hills – $158
– Arizona: San Luis – $152
– Arkansas: Bentonville – $812
– California: La Mesa – $778
– Colorado: Erie – $139
– Connecticut: Greenwich – $81
– Delaware: Newark – $729
– Georgia: Peachtree City – $116
– Idaho: Rexburg – $86
– Illinois: Mundelein – $133
– Indiana: Fishers – $143
– Iowa: Urbandale – $201
– Kansas: Leawood – $162
– Kentucky: Nicholasville – $283
– Louisiana: Kenner – $1,895
– Maine: Portland – $410
– Maryland: Bowie – $375
– Massachusetts: Andover – $51
– Michigan: White Lake Township – $95
– Minnesota: Plymouth – $175
– Mississippi: Southaven – $911
– Missouri: Ballwin – $103
– Montana: Bozeman – $851
– Nebraska: Kearney – $475
– New Hampshire: Salem – $147
– New Jersey: Princeton – $65
– New Mexico: Farmington – $1,682
– New York: Yorktown Town – $43
– North Carolina: Apex – $133
– North Dakota: Williston – $515
– Ohio: Mason – $47
– Oklahoma: Owasso – $347
– Oregon: Lake Oswego – $225
– Pennsylvania: Hampden Township – $69
– Rhode Island: South Kingstown – $111
– South Carolina: Mount Pleasant – $200
– South Dakota: Rapid City – $2,453
– Tennessee: Hendersonville – $142
– Texas: Southlake – $64
– Utah: Lone Peak – $115
– Vermont: Burlington – $681
– Virginia: Leesburg – $314
– Washington: Sammamish – $90
– West Virginia: Morgantown – $1,296
– Wisconsin: New Berlin – $102
– Wyoming: Gillette – $432
---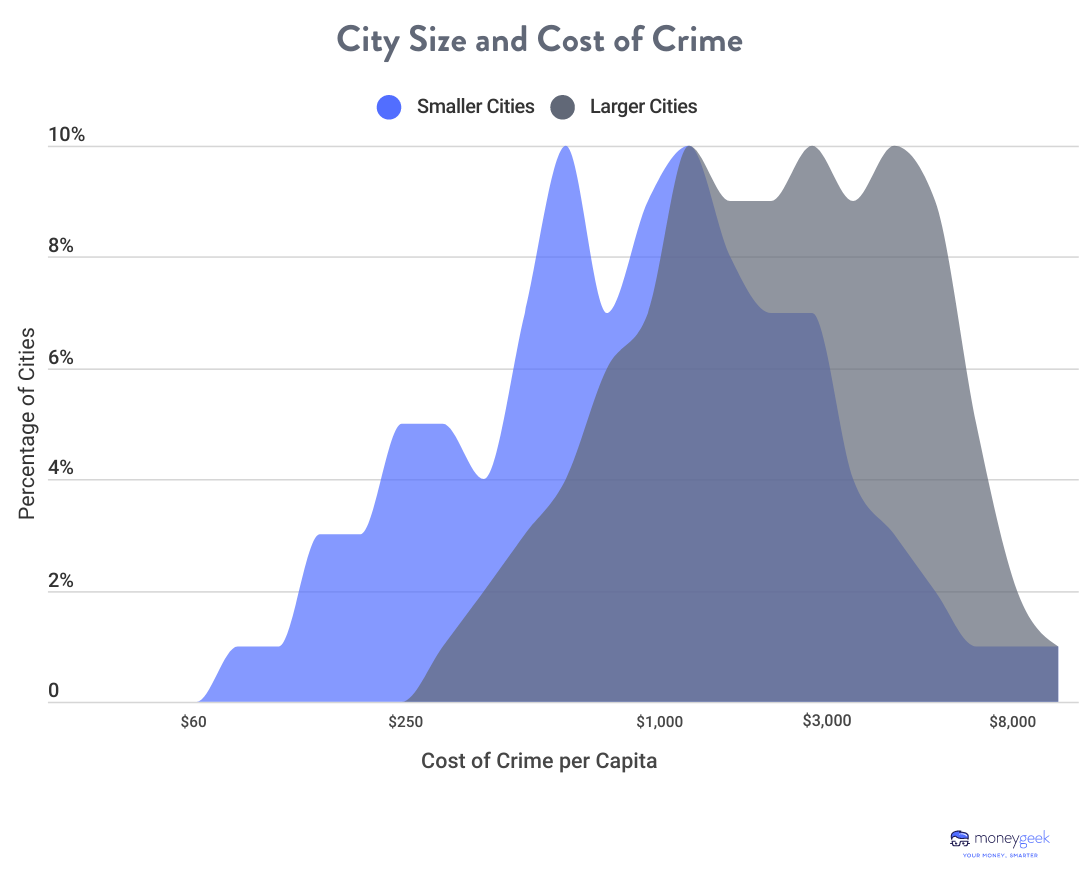 MoneyGeek
Are small cities and towns safer than big cities?
A chart showing that small and large cities have similar per capita cost of crime.
Many people assume that small cities and towns are safer than big cities. But the data tests that assumption.
Lining up the data for large and small cities, this analysis found that small cities and towns tend to be safer than large cities. In fact, the violent crime rate in large cities was nearly double that of small cities. However, the distribution of crime costs also shows a significant degree of overlap between crime costs in large cities and smaller cities and towns. In that overlap, small and large cities may have the same per capita cost of crime.
The data show many unsafe small cities and towns with crime levels comparable to their big-city counterparts.
For example, the per capita cost of crime in the least safe small and large cities is comparable. In Pine Bluff, Arkansas, the least safe small city, the per capita cost of crime is $9,071, even higher than St. Louis, Missouri — the most dangerous city on our large city list — where the per capita cost of crime is $8,457. Cedar City, Utah (pop. 36,903), has a cost of crime per capita of $867, comparable to New York City (pop. 8.4 million), which has a cost of crime per capita of $863.
While the safest places to live tend to be smaller, there is not a perfect correlation between population size and crime levels.
Methodology
To rank the safest small cities and towns in the United States, MoneyGeek started with standardized crime statistics reported to the FBI from 2021, the latest year of available data. To determine crime rates per 100,000 people, population data accessed from the FBI was added to the analysis. This analysis focused on cities with a population between 30,000 and 100,000 residents and included 660 cities in the ranking. Please note that 2021 data was not available for small cities in Alaska, Hawaii and Nevada.
MoneyGeek relied on research by professors Kathryn McCollister and Michael French of the University of Miami and Hai Fang of the University of Colorado Denver to determine the cost of crime to society. Their findings were integrated into the broader data set to better understand the societal cost of crime within individual cities.
SOURCES
This story originally appeared on MoneyGeek and has been independently reviewed to meet journalistic standards.
---