Calderon, Sutton named Round Table athletes of the week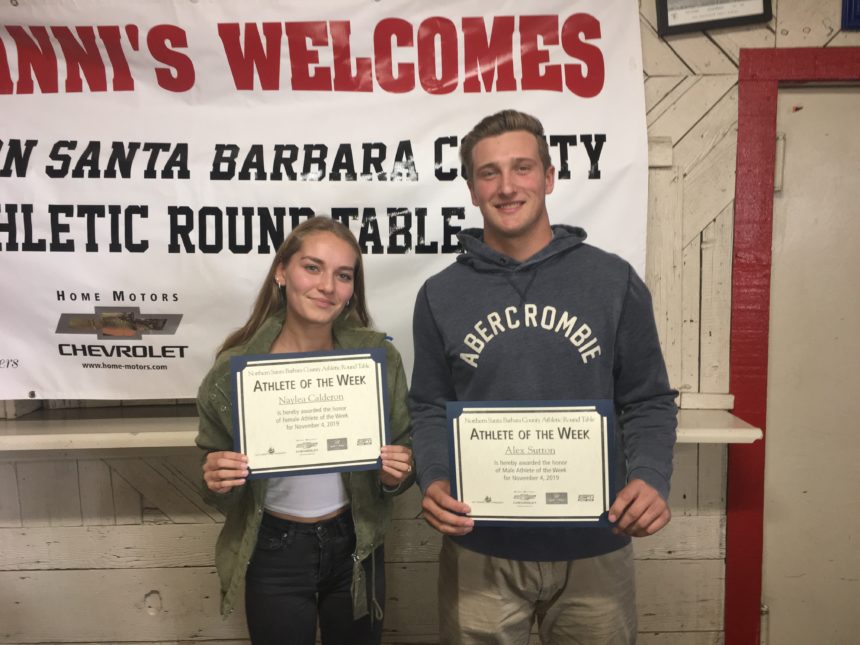 ORCUTT, Calif. -- Top athletes gathered Monday afternoon at Giovanni's Pizza for the latest edition of the Northern Santa Barbara County Athletic Round Table.
Two student-athletes from Orcutt-based high schools each earned the coveted athlete of the week awards.
Naylea Calderon of Righetti cross country, along with Ben Sutton of Orcutt Academy football, were both honored for their recent performances.
Calderon was honored after finishing 2nd place last Wednesday at the Santa Barbara County Cross Country Championships.
The junior finished the three-mile race at Lompoc's River Park with a time of 14:24, which helped lead the Warriors to its first county title in more than 20 years.
"I'm very honored to have received this award," said Calderon. "I can't thank enough my teammates for helping me out. I wouldn't be where I am now. I can't emphasize this enough, I wouldn't be where I am right now if it weren't for them."
Calderon's rise in the local cross country ranks is an amazing accomplishment when you consider this is her first year in the sport.
"I just decided to try it, why not? For fun, why not? Life is too short," said Calderon, when asked about starting the sport her senior year. "I started cross country and I just fell in love with it. I fell in love with my teammates, who I get to call my family."
Up next for Calderon and the Warriors is the Mountain League Finals.
The CIF-qualifying race will be held Thursday at Cuesta College.
Sutton earned the award after a clutch performance Friday night.
"It was really surprising," said Sutton. "Our coach told me this morning that I was going to win, but it feels good to win it."
The junior helped lead the Spartans to a thrilling 47-46 CIF playoff-clinching victory over Fresno Christian.
"It was a very meaningful game to us because last year they were the team that knocked us out and this year we were the team that knocked them out," said Sutton. "When we went into that game, we were like, we're not losing this game."
In the game, Sutton finished with two completions for 58 yards and a touchdown, along with 14 carries for 161 yards and a touchdown.
For good measure, on defense, he had four solo tackles, a sack
and a fumble recovery.
With the win, the Spartans earned the number three seed in the 8-man
CIF-CS Championships.
Orcutt Academy will travel to Riverdale Christian on Friday.
Athletic Director Chad MacKenzie said if the Spartans win, they will host the CIF championship game and will play the winner of Mojave and Lone Pine semifinal.
"We're all really excited," said Sutton. "We're all fired up because we want to be the first team in Orcutt Academy team history to have a CIF championship hosted."