Train service resumes after fire in Gaviota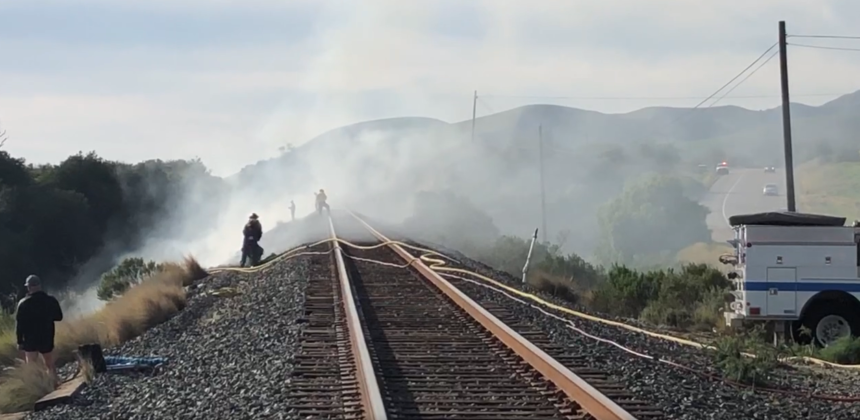 GAVIOTA, Calif. - Train service resumed Thursday evening after a small brush fire boke out on the southbound side of Highway 101 south of Mariposa Reina.
The fire was reported just after 1:30 p.m. near Gaviota Beach.
The California Highway Patrol website described it as a grass fire blowing toward the railroad tracks, temporarily shutting down train service. Fire crews put hoses across the tracks in an effort to put out the flames.
Pacific Surfliner's Twitter said that all service operating between Santa Barbara and Goleta was temporarily stopped around 2:33 p.m.
At around 2:45 p.m., an Amtrak representative gave a statement saying Amtrak trains were not affected, but Santa Barbara County Fire confirmed the shutdown of the train tracks.
Our camera crew on scene spoke to firefighters who said that the railroad track was estimated to be shut down for two hours.
The Santa Barbara County Office of Emergency Management confirmed that the railroad was closed only in the area of the brush fire. The office said, however, that the commuter rail traveling south from Goleta would remain open.
The Pacific Surfliner confirmed the statement by continuing to operate Train 792 from Goleta/Santa Barbara as scheduled.
The Santa Barbara County Fire Department said that the fire was about five acres in size around 3:45 p.m.
The Santa Barbara County Fire Public Information Officer estimated the fire to grow to around 10 to 15 acres, but it was successfully contained around 3:47 p.m. at 5 to 6 acres.
Six engines, a water tender and one water-dropping helicopter responded to the brush fire.
The cause of the fire is still under investigation.