SLO police search for man who robbed business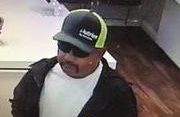 SAN LUIS OBISPO, Calif. -- The San Luis Obispo Police Department is looking for the man who robbed a business at gunpoint.
It happened around 1:35 p.m. Monday afternoon at the Metro PCS on Broad Street.
Police say a Hispanic man in his 50's wearing a black jacket, black pants, and a baseball style hat entered the business and demanded money.
An employee described the robber as 5'7" tall with a mustache and a chubby build.
Police say the employee gave the thief an undisclosed amount of cash.
The suspect ran away toward the Conserve Fuel across South Street.
Anyone with information is asked to call Crime Stoppers or the San Luis Obispo Police Department.