Cal Poly loses NCAA appeal, athletic department hit with severe penalties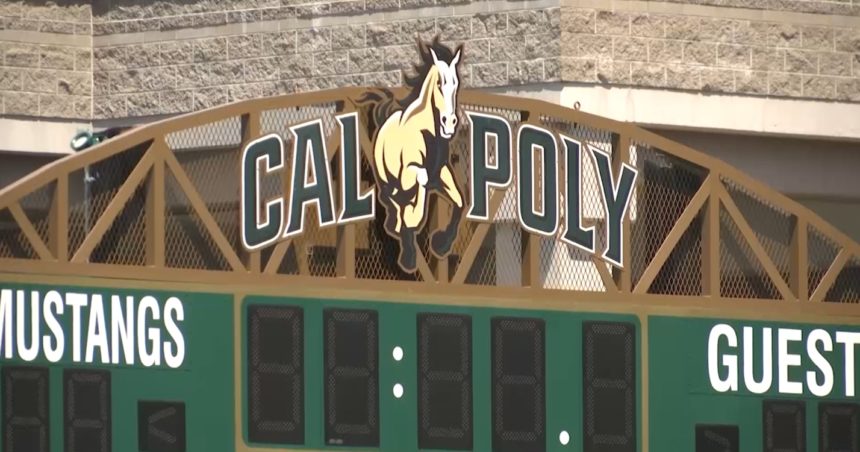 SAN LUIS OBISPO, Calif. -- The Cal Poly athletic department received bad news Thursday morning.
It's appeal to reduce severe sanctions handed down by the NCAA last year was denied.
"I would say we're disappointed," said Don Oberhelman, Cal Poly Director of Athletics. "I think this was somewhat expected, just with the way the appeal process has gone, we thought this was going to come down this way. That said, it doesn't change our disappointment. We think this is a miscarriage of justice. Anytime innocent people get punished for something they had no role in doing, it really sets our association back, it sets the NCAA back."
The NCAA announced penalties imposed on the university originally announced last April will be upheld.
An NCAA press released stated:
In the NCAA Division I Committee on Infractions' decision regarding Cal Poly, the panel found the school did not monitor its book scholarship program to ensure the administration of stipends followed NCAA rules. From the 2012-13 academic year through the 2015 fall quarter, the university provided 265 student-athletes in 18 sport programs impermissible financial aid in the form of $800 in cash stipends which was not equal to the actual cost of the course-related books purchased. In addition to other penalties, the panel prescribed a vacation of records for competition in which student-athletes participated while ineligible.
Cal Poly has been placed on two years probation and will be forced to vacate several team and individual championships and records.
The penalties stem from textbook-related financial aid and monitoring book stipends during the period between 2012 and 2015.
Cal Poly claims the number of student-athletes that were over-paid totaled about 30, while the NCAA counters it was 265.
"Their assertion is absolutely ridiculous," said Oberhelman. "That was grandstanding on their part. In no way shape or form did it involve that many student-athletes. It was an average of $175 per student, period, not per year or per quarter, period, so this was about a $5,000 accounting error over a five-year period, a $1,000 a year and it was our mistake. It was our mistake that was made. We fixed that five years ago, self-reported it to the NCAA and four years later, here we are."
Cal Poly claimed the violations were unintentional and self-reported the violations to the NCAA.
"The fact that the NCAA says it doesn't matter whether you self-report or not is a new day," said Oberhelman. "My biggest fear is the message it sends to every other Division I institution is when you make a mistake, cover it up."
A 3-year long NCAA investigation determined the violations were "Level II," a more severe category than Cal Poly believed.
In October, Oberhelman, along with Cal Poly President Jeffrey Armstrong traveled to Indianapolis to appeal the decision.
In their argument, they pointed to a similar case in 2012 with the University of Nebraska.
"The Nebraska one factually is dead-similar to ours," said Oberhelman. "The only difference between the University of Nebraska case and the Cal Poly case is theirs involved a longer period of time, a greater number of athletes and a greater dollar figure and they did not force the university to vacate those individual student-athlete records, so what's the difference between Nebraska and Cal Poly? Why is that case different than our case?"
In its statement Thursday, the NCAA said:
The Infractions Appeals Committee reiterated that it is within the Committee on Infractions panel's discretion to determine the penalties based on the specific circumstances of the case. The Infractions Appeals Committee noted in its decision that as a result of the implementation of a new violation and penalty structure in 2012, infractions cases under the old violation and penalty structure may have limited precedential value. Not only were some of the cases cited by the university decided under the former penalty structure, the cited cases were also factually distinguishable from this case.
Oberhelman continued the NCAA simply went after Cal Poly because of other larger-scale issues it has not been able to handle.
They haven't been able to handle the name, image likeness issue at all," said Oberhelman. "They haven't been able to adjudicate the major cases of cheating and impropriety that are out there and now they can't adjudicate the simple, self-reported cases that are sent to them, so I think we're ready to hit the reset button."
He added this is a case of the NCAA and its Infractions Committee simply "flexing its muscle to prove its existence."
"Common sense has gone out the window," said Oberhelman. "When you're dealing with the NCAA, you can throw common sense out of the window. "It's a $5,000 accounting error. They spent hundreds of thousands of dollars prosecuting this case. We didn't spend that much money, but we did spend a significant amount in travel, time and effort defending our student-athletes from their prosecution, when you sit in the room and see 15 people that work for the NCAA making six figures salaries devoting their time to this case. It's got to make you wonder, what we're doing here."
Oberhelman said the university still isn't sure what sports will be impacted, but noted it will not include men's or women's basketball since they use a different scholarship formula.
It's a significant since during the 2012-15 timeframe, both basketball programs won a Big West Conference Tournament and earned a trip to the NCAA Tournament for the first time ever.
Any of the university's other sports programs, however, could be impacted, including baseball, which won the Big West Conference championship in 2014, and also earned a trip to the NCAA Tournament.
They only thing that we've been concerned about through this process is those student-athletes individual records," said Oberhelman. "They earned those records. Those records are cherished, whatever they may be. Those athletes worked incredibly hard to achieve those accomplishments and I believe it's our duty to try and protect those accomplishments."
Oberhelman believes Cal Poly will learn which student-athletes and teams are impacted within 30 to 60 days.