Resident upset over homeless coming into her yard during riverbed restoration project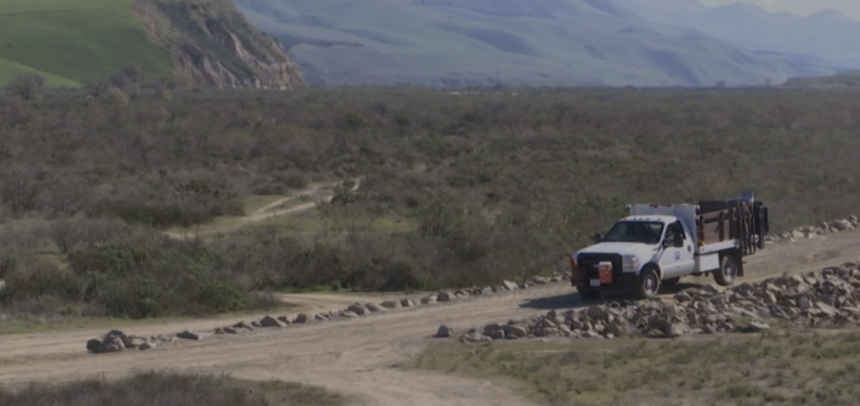 SANTA MARIA, Calif. - Since the City's plantation restoration went underway at the riverbed last week, people living there were asked to vacate the area. Now, a local resident who lives nearby the riverbed says she's seeing homeless people from the riverbed climbing into her yard.
Lori Sexty lives within walking distance of the Santa Maria riverbed.
Since the restoration project kicked off, she's seen homeless people making their way into her neighborhood.
"I was strolling a baby and I looked over and there was a makeshift ladder that the homeless used to hop on over into my gated community," Sexty said.
Sexty said they no longer need to use the ladder to get in thanks to a broken gate.
Sexty is now concerned for both the homeless and her own safety.
"I saw three this morning in my park and I actually called the police because you know I feel a little afraid I saw the shopping cart it's just loaded and I don't know who they are. And I live in a gated community that I pay for," Sexty said.
When the City asked a group of homeless people to leave their camp in order to restore native plants, Christina Harney with the Transitions mental health association says she didn't know about it.
"When I heard about it I was surprised that none of the community-based organizations or providers were aware of it," Harney said.
Harney said she's currently working with other agencies to help those who are displaced from the riverbed.
"Since we've been informed several Community-based providers are going to try to get together and reach out to the people that have been removed to see how we can help and provide access to resources," Harney said.
The Recreation and Parks Department sent a statement that read:
As part of the City of Santa Maria's efforts to maintain and enhance more than 150 acres of City-owned property in the Santa Maria River, and re-establish public walking trails and native plants and reduce invasive plants, it was also necessary to prevent further environmental destruction caused by illegal dumping, littering, and related trespassing activities.
Prior to beginning cleanup efforts this month, City representatives notified local social service providers about the cleanup effort, so they could be prepared to provide services to those individuals who were using this property illegally. The City then posted signs notifying anyone residing on its riverbed property to vacate; the sign also listed available social service agencies ready to assist. The goal is to make the public property a safe place for everyone in the community.
The cleanup effort removed over 250 tons of trash and debris left by illegal activities. The City purchased the land in 2009 with grant funds, as an effort to preserve plants and wildlife, filter storm runoff, and replenish the groundwater basin. In 2010 and 2011, 35 interpretive nature markers were placed on the grounds to educate visitors.
Some of the individuals leaving the property have contacted social services agencies for assistance, while others have chosen to relocate their camps. Trespassing is illegal within the City limits, and the City encourages anyone experiencing trespassing on their property to contact the Santa Maria Police Department for assistance.
For more information, please call the City Manager's Office (805) 925-0951 extension 2372.
As for Sexty, while she's excited about the project, there is also hope the homeless will find the resources needed to create a safer community.