Vitalant Blood Drive: Lompoc mom alive after receiving massive amount of blood transfusions during life-threatening condition in childbirth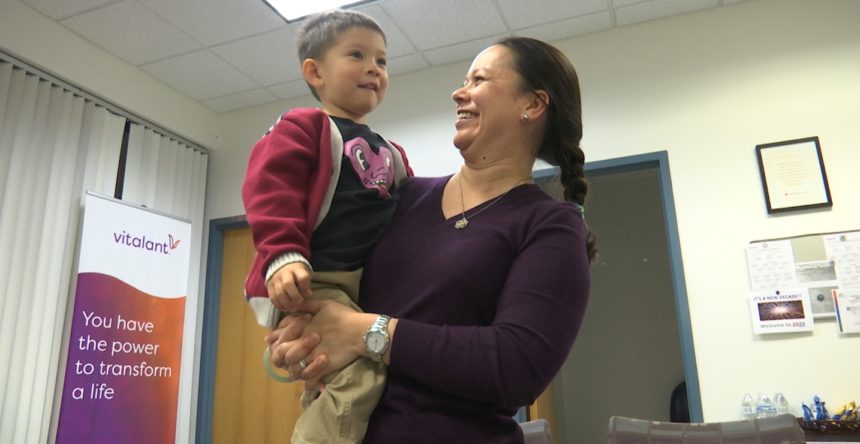 SANTA MARIA, Calif. -- A mother and Air Force veteran owes her life to blood donations.
She's telling her story to bring attention to Vitalant's upcoming MLK Day of Service Blood Drive.
Four years ago during childbirth at Lompoc Valley Medical Center, Malia Sharkey suffered a rare, life-threatening blood condition called disseminated intravascular coagulation (DIC).
"We were expecting a normal delivery and in the delivery room, we're not sure why, but I started bleeding blood uncontrollably," said Sharkey. "I bled out all of my clotting factor and that's when it turned into the DIC, which means your blood can no longer clot no matter how much blood they put into you, you can't clot it anymore."
With Sharkey losing so much blood, the situation quickly became grave.
"A lot of people with DIC don't survive," said Sharkey. "The medevaced me from Lompoc to Santa Barbara Cottage (Hospital). They were not sure if I was even going to survive the 20 minute helicopter ride from Lompoc to Santa Barbara."
Sharkey while said at Cottage Hospital, doctors performed what is known as a "mass transfusion protocol."
"That's what saved my life," said Sharkey, who received 30 units of blood during her emergency ordeal.
"Thirty people had to come together to donate plasma and platelets and blood for me to survive."
Sharkey was unconscious for four days and spent two weeks in hospital.
"By the time I woke up, the nurses were telling me, you almost died, but it's okay, it's all behind us now," said Sharkey.
She said it took her about a year to fully recover from the harrowing experience.
She credits her husband Alan, a trained medic, for helping save her life and his role in her long recovery.
"I'm back to living my life as full as I can and I'm still in my military unit," said Sharkey. "I'm a reservist. I have two jobs and I'm full-time working, raising a family, it's a good life."
Now, four years later, she wants to spread the word on the importance of blood donations.
"It saved me," said Sharkey. "Everyone who needs blood, even if it's just one unit of blood, needs that. There life is changed because this one unit of blood, plasma, platelets, whatever it's going to be."
For the second year in a row, Vitalant is holding an MLK Day of Service Blood Drive.
The day-long event will take place at all four local Vitalant locations in Santa Maria, San Luis Obispo, Santa Barbara and Ventura.
"It's very important for people to donate blood for our community," said Laura Segura, Vitalant, Donor Recruiter. "As our community grow, so does the need for blood and we would like people to come in at least three times a year and donate blood, that would be great."
To help inspire people to donate, Vitalant is providing a few incentives.
"If you come out and donate on Monday, you will receive an entry into the Dream Vacation (contest) to Hawaii, Cancun or Disneyland," said Segura.
Donors may also receive a $10 Chipotle eGift Card through the Donor Rewards Store.
The blood drive will be held from 10 a.m. to 5 p.m.
The Santa Maria location will remain open until 7 p.m.
To help give back, Sharkey and her husband regularly donate blood at Vitalant.
She's aiming to equal the 30 units of blood she received during her emergency.
Sharkey also has a plan for her four-year-old son Edwin.
"Being a toddler, he doesn't fully appreciate all of this, but he will one day and when he turns 16, we're going to march him down to the blood bank and he's going to be donating on his 16th birthday," said Sharkey.
When Edwin does eventually donate, he'll help save a life, just like the people who helped save his mom's the day he was born.
"All these people who donate generously without knowing who gets the blood or when or if it's going to be used, you never plan to need blood," said Sharkey. "These are amazing people."
Click here for more information on the Vitalant MLK Day of Service Blood Drive.