96-year-old celebrates Valentine's Day birthday with college students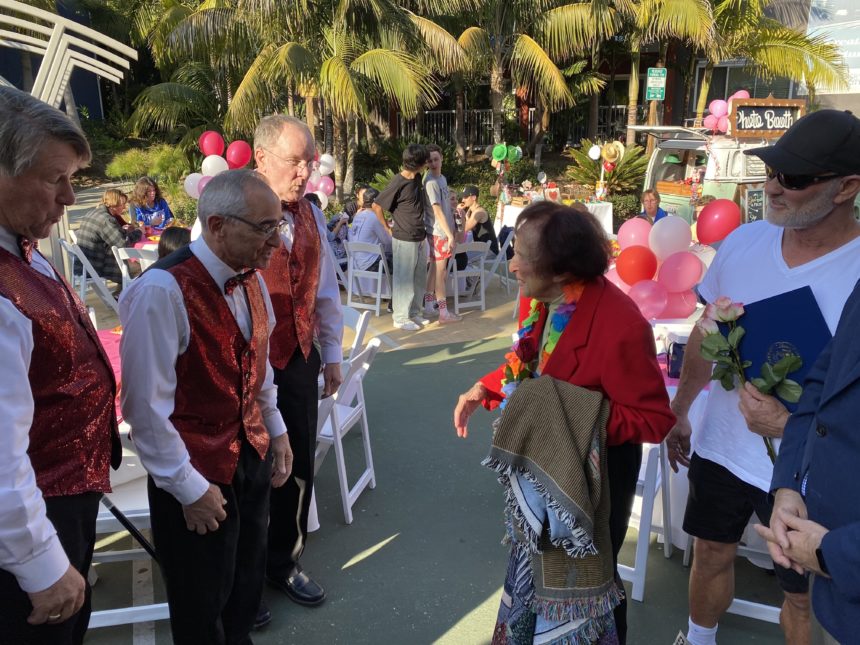 SANTA BARBARA, Calif. - A 96-year-old woman celebrated her birthday with a large group of college students from Santa Barbara City College on Valentine's Day.
Jean Nell has been living amongst young adults for the past six years while residing at the Beach City student housing complex on Cliff Drive.
This afternoon, roughly half of the college kids gathered together for a rousing Valentine's Day house party.
"It's overwhelming, I can't believe it," Nell said. "I'm really shocked. They are so good to me, the students are really wonderful."
Despite being one of the only non-student residents at Beach City, Nell has lived in her apartment for the past 26 years.
"I just really relate to like her sense of community and her sense of making this place a better place for everyone," SBCC Student Andrey Dagayev said.
"She still feels youthful around us and wants to party with us," SBCC student Marlena Hughes said. "It just makes us really happy and it's really wholesome."
In 2013, developer Ed St. George bought the apartment and converted it into student housing.
"Jean decided to stay, she liked it here and we love having her here," St. George said.
"He told me that as long as you wanna live with the students you can stay," Nell said. "I was so happy because I got a nice apartment."
The birthday party was highlighted by music from a young DJ, tasty food and a surprise performance from a barbershop quartet.
"It's a beautiful day to have a birthday," Nell added. "You get gorgeous cards and beautiful flowers."
"Everyone came together and we're all here celebrating her birthday," Hughes said. "It makes us feel like a closer community."
While Nell continues to guide her college neighbors in the right direction, the kids keep her feeling young.
"You know people think that age is just a number but at the end of the day, there are things that unite us all," Dagayev concluded.
Ever since Beach City became a student housing complex, SBCC students have been celebrating Nell's life while hosting her birthday parties each Valentine's Day.