Westmont chalks up another win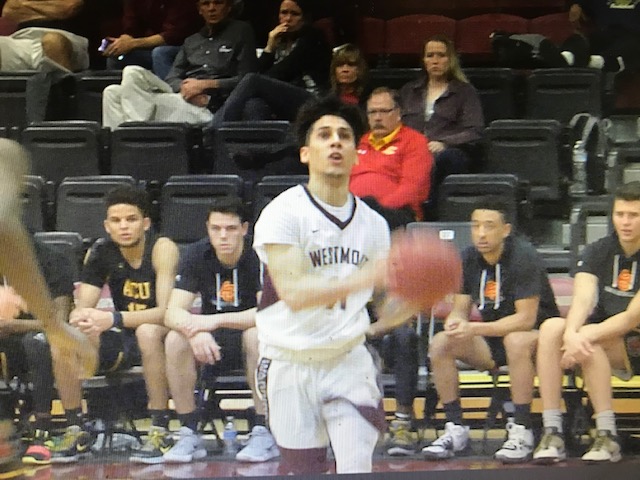 MONTECITO, Calif.-
Abram Carrasco scored 20 first-half points and the Warriors didn't slow down when he got into foul trouble in the second half, as the #4 Westmont men's basketball team (20-2 overall, 9-1 GSAC) defeated #23 Arizona Christian (16-6, 6-4), 87-74, on Thursday night in Murchison Gymnasium.
The Warriors raced out of the gates, leading by as many as 19 in the first half before taking a 46-35 lead into halftime, on the back of Carrasco's monster opening period.
"I think often times as Bram (Carrasco) goes, we go," Westmont head coach John Moore said. "Bram was special in the first half.
"It was one of the strangest games I've ever coached him. Here's Bram, as spectacular as he was in the first half, he got to play only three minutes in the second half because of foul trouble."
Despite Carrasco being limited to just two points in the second half, the Warriors extended their lead to as many as 21 over the Firestorm.
"That tells you how deep we are, how good our freshmen were, in Noah Fernando and Jared Brown," Moore said. "Jared only had six points, but he righted the ship when Bram was out.
"I thought we got a lot of good play from our bench, from Tristan (Lloyd) and Noah in particular."
No one stepped up bigger than Justin Bessard, though, who tallied a double-double of 23 points and 13 rebounds, leading all players in both categories.
"JB was back," Moore said. "It's the best overall game he's played in quite a while. He picked it up and he knew he was going to need to with Bram not there."
Bessard helped the Warriors dominate down low, outscoring the Firestorm 38-20 in points in the paint and outrebounding the visitors 42 to 27.
Cade Roth and Hunter Sipe scored 13 points and 10 points respectively, as four Warriors scored in double figures.
Westmont forced 21 Arizona Christian turnovers, including 12 in the first half, converting those into 19 points off turnovers compared to the Firestorm's six.
"Our main goal was to keep them out of transition and we did a fairly good job of that in the first half," Moore said. "I think overall our defense throughout the game was strong."
Before the game, Westmont held a 24-second moment of silence and prayer in honor of the nine people who passed away in a helicopter crash in Calabasas on Sunday, including Los Angeles Lakers' legend Kobe Bryant.
With the win, the Warriors extended their lead atop the Golden State Athletic Conference to two games after #7 The Master's lost at home against OUAZ (Ariz.), a team Westmont hosts on Saturday. The loss dropped the Mustangs into a three-way tie for second place with Menlo and William Jessup.
"Let's make sure when the Super Bowl rolls around on Sunday, we still have a two-game lead," Moore said. "OUAZ is playing very well. This is probably their signature win. They beat a top-10 team on the road. They've got three of the top-five scorers in the GSAC and they are hard to play because they love to play fast. We'll have to play as well as we did tonight."
The Warriors are scheduled to tip-off against the Spirit on Saturday at 3:00 p.m.
Story courtesy of Westmont.