Ventura County COVID-19 cases now 81,572 with 1,025 deaths
VENTURA COUNTY, Calif. - Ventura County reported 18 new coronavirus cases on Monday. There have now been 81,572 confirmed cases of COVID-19 in the county, including 1,025 deaths.
The county has been releasing updated numbers every weekday on VenturaCountyRecovers.org.
66 cases are considered active. 9 people are currently hospitalized, 2 of whom are in the ICU.
More than 1.5 million tests have been performed.
The majority of these deaths have occurred in people 65 or older. At least 35 deaths have been reported in people aged 44 and younger.
The community is encouraged to get vaccinated, practice physical distancing and wear a facial covering when out in public to help reduce the spread of COVID-19. For vaccination appointment information, click here.
More details can be found at VenturaCountyRecovers.org.
SUMMARY
New cases
18
New Tests Performed
7,793
New Deaths
0
Current hospitalizations
9
Current ICU
2
Total cases (Active, Recovered, and Deaths) 3/11/2020 – Present
81,572
Total Test Performed
1,548,092
Deaths – 3/22/2020 – Present
1,025
CONFIRMED CASES
Person-to-person acquired
7,463
Community acquired
3,538
Under investigation
65
Undetermined
70,506
Total
81,572
AGE AND SEX OF CONFIRMED CASES
Age
Female
Male
Unknown
Age 0-17
6,475
6,321
122
Age 18-24
5,847
5,634
125
Age 25-44
14,268
13,663
244
Age 45-64
10,610
9,998
175
Age 65-74
2,306
2,110
55
75+
2,121
1,391
51
Unknown
22
31
3
Total
41,649
39,148
775
CASES BY CITY/UNINCORPORATED AREA
91307 – Bell Canyon
31
91320 – Thousand Oaks/Newbury Park
2,737
91360 – Thousand Oaks
2,745
91361 – Thousand Oaks/Lake Sherwood/Westlake
655
91362 – Thousand Oaks/Westlake
1,728
91377 – Oak Park
413
93001 – Ventura
2,980
93003 – Ventura
4,136
93004 – Ventura
2,383
93010 – Camarillo
3,303
93012 – Camarillo/Santa Rosa Valley
1,796
93015 – Fillmore
2,665
93021 – Moorpark
2,858
93022 – Oak View
375
93023 – Ojai
1,013
93030 – Oxnard
9,834
93033 – Oxnard
13,851
93035 – Oxnard
2,464
93036 – Oxnard
6,297
93040 – Piru
362
93041 – Port Hueneme
2,447
93060 – Santa Paula
5,526
93063 – Simi Valley (Santa Susana)
4,377
93065 – Simi Valley
6,343
93066 – Somis
253
Total
81,572
RACE/ETHNICITY
Race/Ethnicity***
Count
% Cases
Rate per 100,000
% % Deaths
% of Population
Latino
32,570
62.6%
8,621.8
41.9%
44.5%
White
13,931
26.8%
3,827.5
40.5%
43.2%
Asian
1,907
3.7%
3,036.8
7.8%
7.4%
African American/Black
594
1.1%
3,982.6
0.9%
1.7%
Multiracial
813
1.6%
3,770.0
0.3%
2.5%
American Indian or Alaskan Native
169
0.3%
7,035.8
0.9%
0.3%
Native Hawaiian or Pacific Islander
188
0.4%
12,295.6
0.2%
0.2%
Other
1,850
3.6%
N/A
7.4%
0.2%
Race Ethnicity Unknown (Also Other with Unk Eth)
29,550
Total
81,572
100.0%
9,639.2
100.0%
100.0%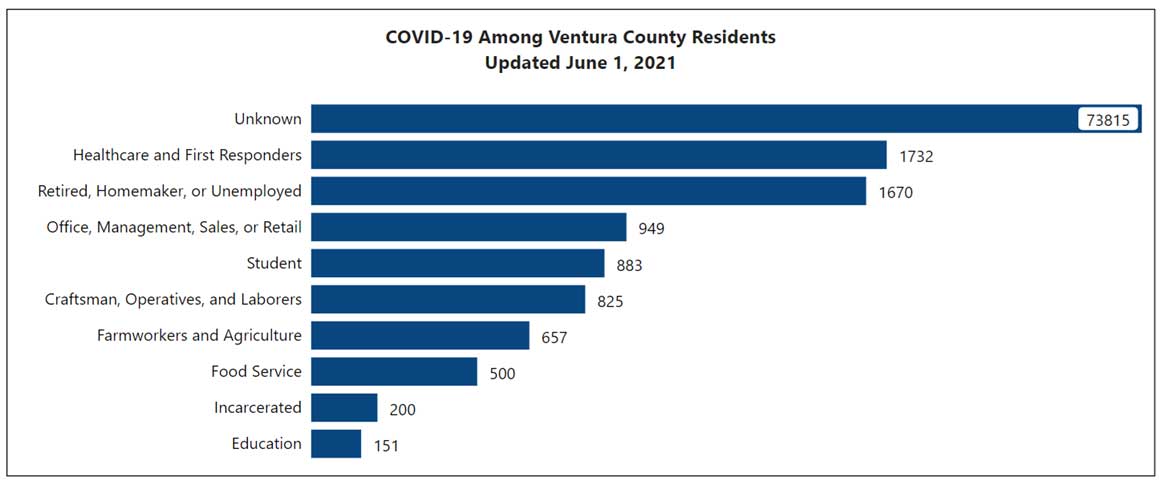 ---