Firefighter who rescued owl during fire releases him into the wild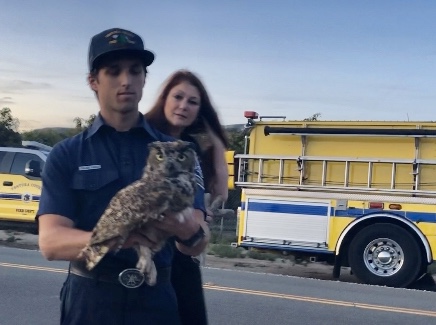 SOMIS, Calif. - A Great Horned Owl rescued by a firefighter was well enough to be released into the wild.
His rescuer nicknamed the owl "Ram" after the football team that trains in Ventura County.
Ram appeared injured during the Maria Fire in early November.
Nicky Thole of Camarillo Wildlife Rehabilitation said, "Caleb did a great job when he picked him up, he wrapped him in his jacket."
Thanks to Caleb Amico and fellow firefighters, Ram recovered from a broken furcula or collarbone at Camarillo Wildlife Rehabilitation.
The 24- year-old firefighter from Oak View, with five years of experience, had the honor of setting Ram free.
Amico said, "Everyone in our community, they don't think of it as a huge deal, they see it as a unique cool little aspect of the job, being able to come across different animals."
Ventura County Fire Captain Brian McGrath said the area that burned is making a comeback and the owl is part of the healing.
Rams football players have been cheering on the effort.
They sent a message saying, "Safe flight Ram."
After the release off E. La Loma Avenue, where Ram was initially found,
the owl could be heard hooting to another one in the wild.
Most Great Horned Owls mate for life.
Camarillo Wildlife Rehabilitation is a nonprofit with a Facebook page that counts on donations.
For more information visit www.camarillowildliferehabilitation.org