Santa Barbara celebrates the Oscars at the Arlington Theatre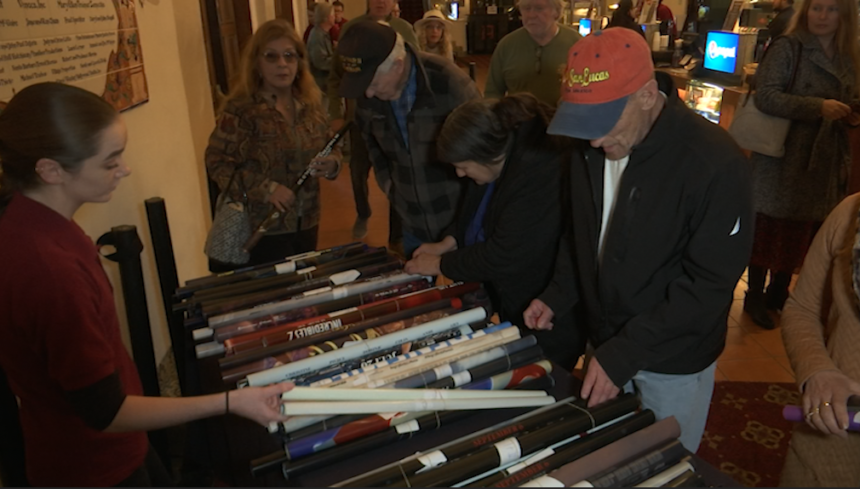 SANTA BARBARA, Calif. -- The Oscars, it's the biggest night in Hollywood. Santa Barbara's oldest theater opened their doors to let the community celebrate for free.
During the 2020 Santa Barbara International Film Festival the Arlington Theatre's stage hosted award winners like Adam Drivers, Bong Joon-ho, Renee Zellweger, Laura Dern and Brad Pitt to name a few. Sunday night the staff and movie fans hope to see repeat winners from SBIFF and the Oscars.
Santa Barbara movie fans came for the red carpet. Jill Title dressed up with her friends. She said, "I am wearing, probably Home Coming 1997."
Andrea Pullman got to the theater early to see the stars on the red carpet. She said, "And of course the fashion. Of course I have to see the fashion. Isn't that part of it. What woman or man doesn't want to see the beautiful fashions."
They have their favorites. Whether cheering for their home team, like Alvaro Miestro, who's visiting from Spain. He said, "It's not usual that we have some many representation in the Oscars from Spain. And it's usually in like the foreign movie category. It's not like the main one. So that's exciting always." 
Or they cheered for one of their favorite books that was turned into a movie. Maggie Fisher said, "I don't think Little Woman was nominated for Best Picture, are they? But if it is nominated for Best Picture, I would like that because I'm a lit, English person."
In a town big into film, they're all in front of this silver screen for the same reason.
"And I thought this would be so much fun watching it on the big screen," said Pullman. "Sharing it with other movie buffs, and have some snacks. And I'm going to have a little glass of champagne, and what could be more fun?"
While those movie buffs waited to see who wins the big awards, many won some of their own. The Arlington Theatre gave out prizes and free raffles withs posters and other movie merchandise. And others movie fans had their own games.
It was a free way to cap off the end of the movie season.